Inspired by the pastel colours and art deco styling of French swimming pools, our trend Serenity was created with colour consultant and interior designer Ali Munro with relaxation and escapism in mind.
Serenity is perfect for those in need of a touch of tranquility, a quiet corner for calm and a soothing space to escape to at the end of a long day – if that sounds like you, read on to discover how you can get the look in your own bathroom.
Add a serene colour scheme
Our Serenity trend embrace the 'pink effect' at its core and is all about using the proven psychological effects of the colour pink to create a soft and calming look in your home.
Defined by its gorgeous colour palette - think dusky pinks, vibrant pistachios and dove grey - and complimented by pretty, refined details and art deco inspired patterns, this trend is far from old-fashioned or overly feminine.
Ali's steal the style tip: "Serenity's colour palette is very elegant. I think the great thing about the interpretation of the trend is that it isn't too girly. The design doesn't necessarily have to be too feminine depending on what you pair it with, so opt for a matte finish over a shiny pink surface and incorporate dove greys for a luxurious look."
Pick perfect products for pampering
Whether you're feeling like a simple refresh or a total makeover, look to the Serenity trend for inspiration. Drenching rainfall showers and taps in warm coppery hues, such as the Hemsby rose gold collection, work beautifully with the vintage feel of this trend and can add a romantic twist to a classic white suite.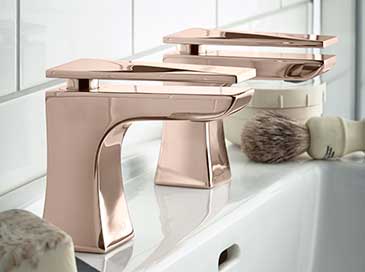 To really transform your space, pair a shimmering luxury freestanding bath, such as the Holywell bath in Stainless Steel Effect, with on trend blush tones and intricate tiling for an elegant feel that channels the opulence of a by-gone era.
Sock upon stylish Accessories
Serenity is all about creating a peaceful retreat so think about displaying pretty glass perfume bottles by a window so they catch the light and introduce some fluffy towels for a touch of boutique luxury. For the perfect finishing touch dot a few of your favourite scented candles around the bathroom and add aloes and orchids for a pop of fresh green to create a sumptuous serene environment – perfect for relaxing.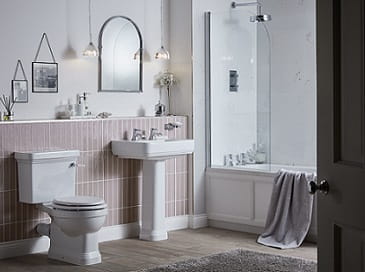 To discover how to create Serenity in your bathroom, why not download or order your copy of our trends and inspiration booklet here. Then all you need to do is light the candles, lock the door and lose yourself, just for a little while in planning your own serene sanctuary.