With summer holidays on the horizon, it's the perfect time to recreate the luxurious tropical vibe of your holiday at home - but capturing this calm and refreshing feeling isn't always easy. That's why we've recruited our colour consultant Ali Munro to talk through our exclusive trend Plunge Pool to help you design a bathroom that will make you want to dive right in this summer.
The Inspiration for the trend
"Most people like to go into a bathroom and feel relaxed, renewed and re-energised. For many, nothing evokes that feeling more than seeing an endless stretch of the sparkling turquoise Mediterranean on holiday - so recreating that feeling is key for those looking for a more calming and elegant bathroom environment.
"What we call 'clean' colours are really important too, especially for those looking to embrace the huge trend for wellness and well-being within their own home. So, think bright aquamarine tones, tropical plants, Moroccan tiling and chrome finishes for an instant airy, coastal inspired scheme that will provide the perfect spot for relaxation."
Why it works in the bathroom
"You may not know the name, but you'll certainly have spotted this trend. 'Biophilic' is the idea of bringing the outside in and blurring the lines between the great outdoors and the home environment. Not just a beautiful and vibrant aesthetic though - introducing organic textures and touches of nature in the home can also have a positive impact on mood.
"Plunge Pool is all about incorporating oceanic colourways, natural stone finishes and lush foliage for a luxury bathroom design that instantly evokes memories of long, relaxing days in sunnier climes. You'll practically be able to hear the waves lapping on the shore."
How to get the look
"To bring this look into your own bathroom space, pair a shimmering freestanding statement bath, such as our Holywell bath in Stainless Steel Effect, with stark white tiles and a beautiful teal wallpaper to create a little retreat to slip away to at the end of a long day.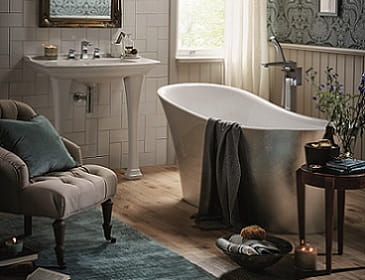 Or alternatively, play around with patterns and add a glistening backdrop of aqua tiles to one of our luxury showers to create an energising space that works for all the family – the perfect place to cool off this summer."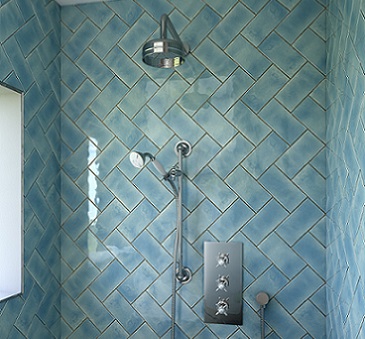 To discover more about our Plunge Pool trend, or our other three trends Serenity, Midnight at the Oasis, and Soho - you can download or order your free copy of our trends and inspiration booklet here.