With everyone in the interior design world discussing the hottest topic for January - what the different key trends for the year will be ­- it can be hard to know which design direction to go in. That's why we've scoured the biggest sources to bring you some of the most talked about interiors predictions for this year.
So, let's check out some of the home design ideas set to make an impact on your interiors in 2018.
Popular Pins:
A trend tipped for big things this year according to Pinterest is sage green. This tone has seen a surge in saves in recent months as people look to introduce a new kind of neutral into their homes for a warmer and more serene alternative to white or cream.
If a bolder look is more to your taste though, and sage doesn't quite speak to your sense of style, another trend that Pinterest predicts will be growing in popularity is statement wall art – and when it comes to bathroom art ideas, it seems 'the bigger the better' is the rule of thumb.
Pantone Predictions:
Pantone are undisputed experts within the world of colour, and their Colour of the Year 'Ultra Violet' is a guaranteed 'go to' for a dramatic style statement in 2018. Pantone says that the purple hue "suggests the mysteries of the cosmos, the intrigue of what lies ahead, and the discoveries beyond where we are now. The vast and limitless night sky is symbolic of what is possible and continues to inspire the desire to pursue a world beyond our own."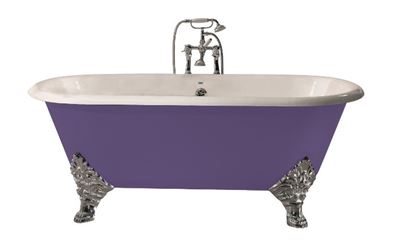 We love the regal and dreamy feel of this colour and think it would be the perfect paint colour to personalise one of our beautiful cast iron baths - which come primed and ready to paint so you can easily inject your own personality into your bathroom space.
WGSN's colourful forecast:

A trend set to continue this year according to WGSN is deep, inky hues. These work wonderfully when paired with copper tones to create an enchanting space for relaxation. Get the look yourself with our Alderley mock croc leather effect bath in this sumptuous deep blue setting for a truly sensual feel in your bathroom space.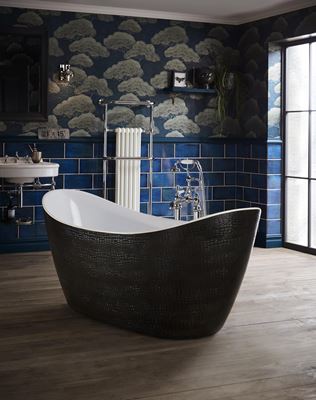 Hues Houzz loves:
We all know that copper and rose gold have been the metal finishes of choice in recent years, but Houzz predicts that this year it's all about mixing contrasting metallics for a chic and eclectic look. Ever the advocates of tearing up the rule book and getting more creative with your brassware, we think this would look fabulous - but why not continue this bold approach across your bath too? We think our range of Gold, Stainless Steel and Copper metallic effect baths are the perfect way to mix things up this year.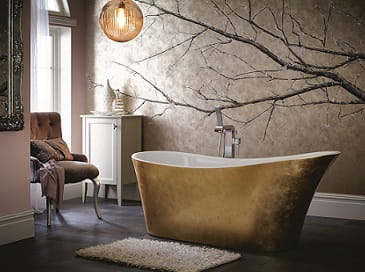 If all these ideas for bathrooms have got you feeling inspired to take on your own bathroom project, then we've got a treat for you! We have been working closely with our colour consultant Ali Munro to compile all of the trends and colours we know you'll love into four key 'looks' that are perfect for translating into a bathroom space.
The guide will be available to request or download from our website, and we'll be sharing lots of bathroom decorating ideas across our Facebook, Twitter and Instagram channels too so make sure you like and follow us for even more interiors inspiration and bathroom design ideas!