Here at Heritage Bathrooms, we've been talking to Sian Astley, interior designer, home renovator and blogger at Moregeous about some of her top tips to achieve a more than gorgeous bathroom. She's recently been busy renovating her cloakroom bathroom at Moregeous Mansions with a gorgeous Dorchester corner WC. In part one of her guest blog, she discusses bathroom design ideas.
Traditional Vs Contemporary Style
"A new bathroom is an investment, and one which has classically styled fittings will always endure. But be assured, 'classic' or 'traditional' bathroom suites certainly need not mean old fashioned. In my period home, classic bathroom pieces have been given a twist and the spaces brought bang up to date through clever interior styling. The paint colours, feature tiling and even wallpaper can ensure a modern feel and can be changed more easily and affordably than sanitary ware."
Wallpaper
"Talking of wallpaper, this is a huge trend for bathrooms or cloakrooms for 2017 (and beyond) and I think it's one set to grow in popularity. Wallpaper adds personality and pattern, plus it's so easily updated and totally transforms a room. There's no excuse not to explore your wild side and be brave. Yes, this is the ceiling of my monochrome bathroom, I'm in the jungle when I shower!"
Warm Metallics
"For decades, British bathrooms have featured chrome, chrome and, yes, chrome, but all that has changed. The trend for warmer metallics such as brass, copper, rose gold and antique bronze has crossed the pond from the US and we now have a plethora of shades at our fingertips, across taps, showers and accessories. Never before has there been so much choice. My tip? Don't be tempted to buy cheap internet imports as the quality is poor, whereas good quality fittings won't let you down."
Create A Bathing Oasis
"Bathrooms are quite marvellous places to feature house plants, as not only does all the warm damp air make them grow like triffids but there's something wonderfully relaxing about having natural beauty as a calm backdrop. Try cacti on a sunny window sill, steam loving ferns in hanging baskets or a powder room palm adding height and lusciousness."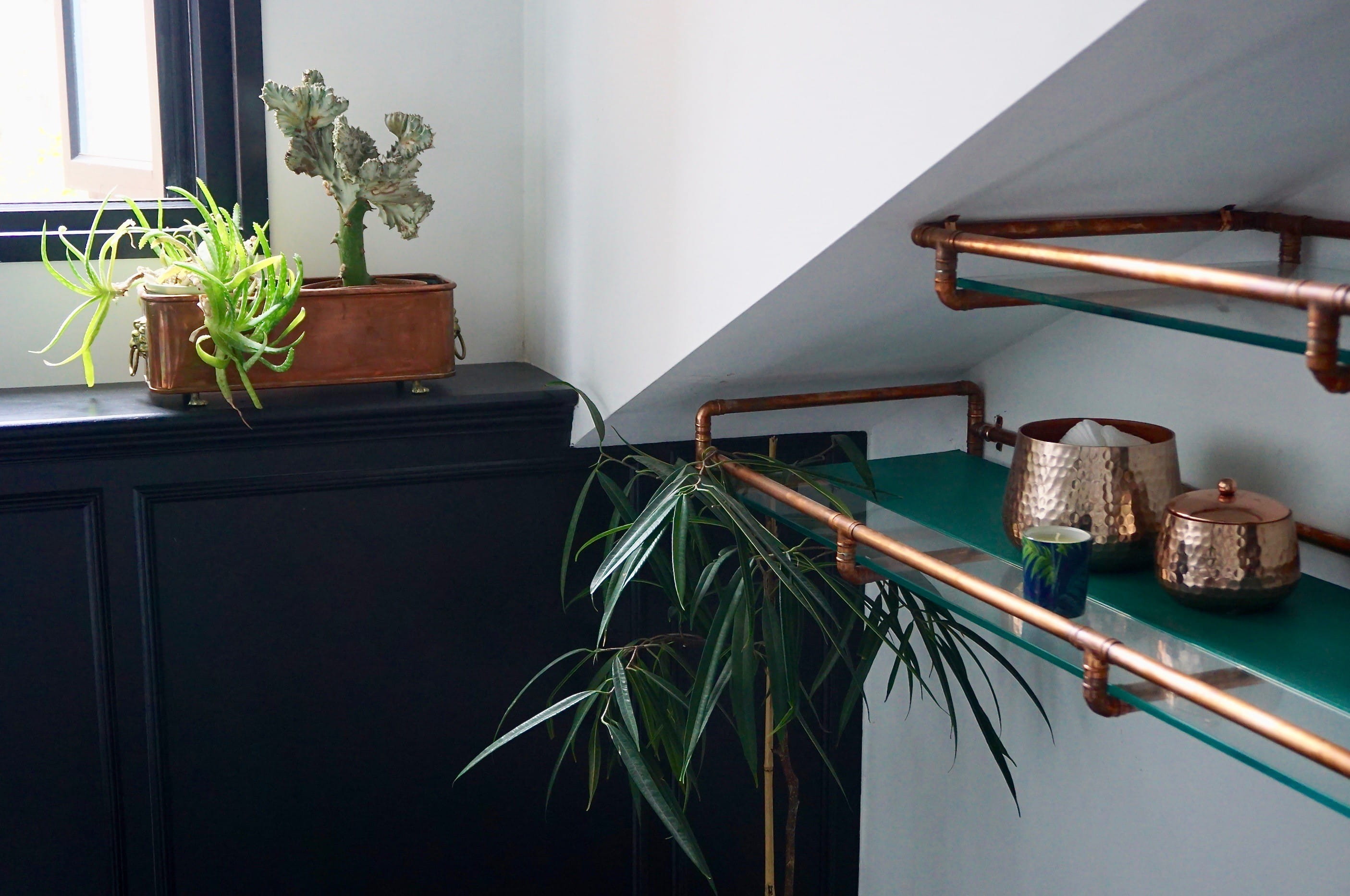 Gorgeous Grout
"One often forgotten detail for bathrooms is the tiling grout, and builders rarely take the time to match up and work out the best colours for the tiles. There are several manufacturers out there and choosing the most complementary shade is a detail often neglected. Consider also using a contrasting colour such as dark grey with white tiles, and investing in an epoxy rather than cement grout which won't develop those ugly mould spots which sometimes appear in a well-used showering space. Also match your sealant to the grout for a more seamless look."
Marbletastic
"Who doesn't adore the look of sumptuous marble? With all the new size formats and designs in tiling, this material can deliver a traditional or a contemporary look equally well. Rectangles, subways, herringbones or hexagons, the world is your marble oyster. For those who don't want the faff of constant maintenance (and yes, it does stain and water mark), try the amazing porcelains which today's photographic technological advances ensure look pretty much as good as the real thing without any aftercare.
"If you enjoyed these tips, for more bathroom inspiration keep an eye out for my Instagram takeover on Heritage's Instagram channel and part 2 of my guest blog where I talk about some of the more practical tips to create a lavish look."
For more design inspiration and interiors advice, follow Heritage Bathrooms on Facebook, Twitter, Instagram and Pinterest.