Bright and colourful wallpapers are a great way to express your personality in the bathroom, and be bolder and braver with your bathroom designs.
We know that everyone lusts after a luxury bathroom and wallpaper in the bathroom can be a great way to achieve the look you want. Here are some of our top tips when thinking about introducing wallpaper into your scheme:
Suitable wallpaper for the bathroom
Although the bathroom tends to be a humid place, it doesn't mean you can't make a splash with a stunning wallpaper. To make sure your design stands up to daily doses of moisture, look for a wallpaper specifically made for a bathroom setting, which is splash proof and wipeable. This will mean your wallpaper won't peel away, and will enable you to regularly keep it clean without damaging the surface print. You could also use a glazing such as Decorator's Varnish over the top of your chosen paper to help make it waterproof.
Positioning
Wallpaper is a great way to create a striking focal point and lead the eye through a space. Try positioning your wallpaper close to a key bathroom element, such as a cast iron bath or gorgeous console basin to make sure these pieces take centre stage.
To increase the longevity of your new luxe look, it's also a smart idea to place the wallpaper away from wet zones like the shower, and to opt for coordinating tiles in these moist areas instead. This not only looks stunning, but will also prevent the wallpaper from becoming exposed to water directly. Heritage's Granley Deco suite has been transformed with this monochrome Cole & Son wallpaper, so why not recreate this look for a bolder and more distinctive bathroom?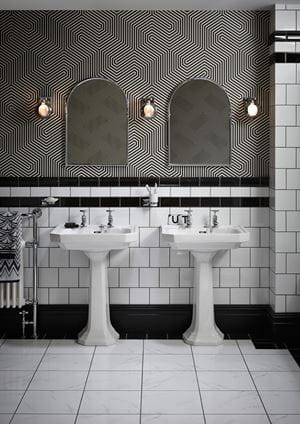 Design
The great thing about opting for wallpaper in the bathroom is that you're open to so many more design possibilities than if you simply stick to tiles for the walls and flooring. If you're looking for country bathroom ideas, consider opting for neutral tones and simple patterns like the Timorous Beasties print we chose for our Dorchester suite. Or alternatively, be bold and add a sense of drama in your bathroom with a dark floral print like this Ellie Cashman design against our metallic Hylton bath for a more boutique feel.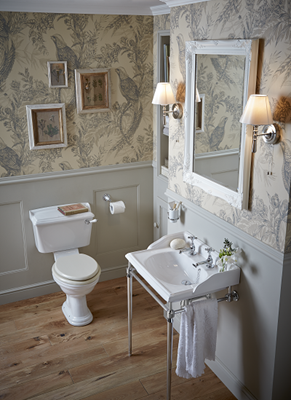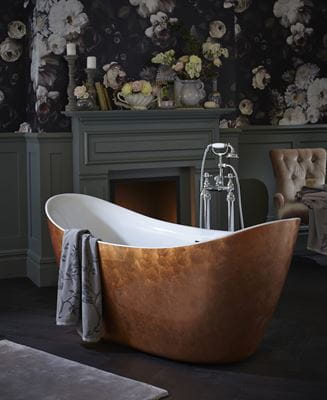 So, if you're looking for more ways to embrace wallpaper in your bathroom space, have a look through our lovely Heritage Bathrooms brochure for more bathroom inspiration, or alternatively you can find more interiors tips on Facebook, Twitter, Instagram and Pinterest.