Statement lighting can be another striking way to create a distinctively individual bathroom design. We're big fans of unique vintage lighting company Industville, who we've featured within Heritage's photography shoots. We've asked the Industville team to share their secrets to make bathroom lighting sparkle.
Create an illusion of space
Mirrors paired with gorgeous bathroom lighting have always been a focal design element at the forefront of a stunning bathroom. Utilising natural light can brighten up space, but bathrooms without that option should consider mirrors to create an illusion of space. For bigger spaces looking to make a luxury statement, choose a large period-style mirror such as Heritage's Chesham Grand – an ideal and stylish way to create a spacious feeling.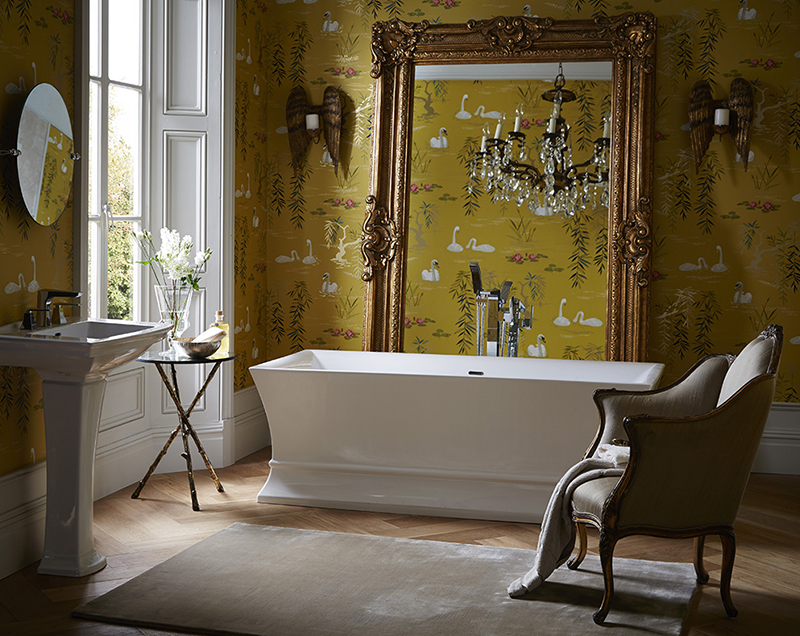 Opt for statement wall lights
Wall lights are not just useful for illuminating bathroom mirrors, but are a great accessory and add to the detail of creating an overall look, especially in low ceiling rooms. Consider a simple and sleek design like the Vintage Sleek Edison Wall Light, or go more retro with the Orlando Vintage Wire Cage Retro Sconce Wall Light. With a master bathroom design, using a dimmer switch can create mood lighting for a blissful tranquil ambience for relaxing soaks.
Create focal points
Wall lights can also great focal points in your bathroom. Zoning your bathroom is all the rage and highlighting certain areas, such as the vanity unit is not only practical but looks well-designed and bang on-trend.
Layer your bathroom lighting
Multiple types of lighting will always enhance your bathroom, regardless of design, shape and size. Mirror lighting, wall lighting and spotlights can all work together or individually to provide practical light, ambient lighting for relaxation and brighter lighting for night-time.
Add a splash of colour
Colourful bathroom lighting can add a bit of fun and personality. Colourful bathroom lighting can be both bold and daring or more subtle. If your bathroom is monochrome, add a splash of red or veridian green in the lighting features for an art deco look.
Stay Creative
Having a small space doesn't mean limiting your creativity. As the ceiling is the most obvious space for your bathroom lights, you may want to consider a flush mount if you struggle for space. With windowless bathrooms, think about light and airy designs which reflect light such as the Brooklyn Vintage Antique Ribbed Glass Retro Dome Flush Mount or Brooklyn Vintage Antique Ribbed Glass Retro Funnel. But, if your bathroom design is calling for something more industrial try our Vintage Industrial Barn Slotted Flush Mount. These fittings are a great way to add a design element that provides enough light in the space.
Make a statement
To give your bathroom the wow factor it deserves, choose a freestanding bath with traditional ball and claw feet to serve as a great focal point for your bathroom and create a standout statement. Balancing this look out with contrasting industrial lighting, such as exposed bulbs or metal hanging lights, can work well in modern and traditional bathroom design schemes. Statement bathroom lighting can also come in the form of vintage chandeliers and large hanging ceiling lights if your bathroom is big enough.
Stay on trend with gold and copper
For a showstopping bathroom look, add a touch of glamour with Heritage's Holywell metallic effect bath in gold or copper effect. This gorgeous bath can be perfectly paired with Industville's brass range lighting to compliment the metallic design features of the bath and tap detail.
For a truly luxe feel, don't be afraid to accessorise your basin with Hemsby rose gold taps and add an Industville statement light to match. With Industville's wide range of hand finished pure copper lighting you are bound to find your perfect match.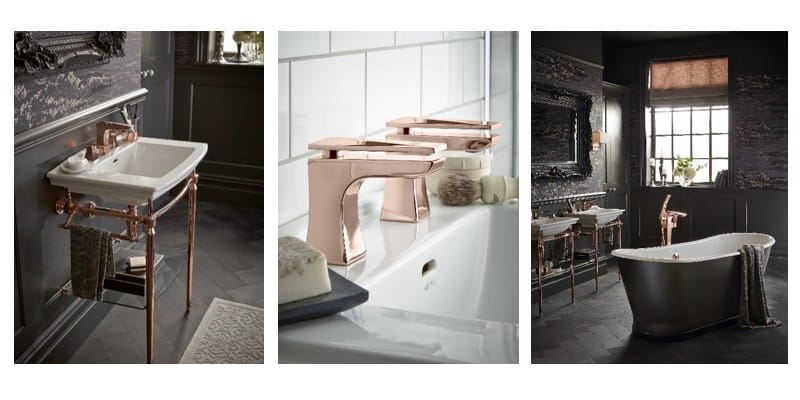 Making your bathroom lighting fit your colour palette
If you're at the crucial colour-picking part of your home renovation project, it's important not to underestimate the vital role that bathroom lighting will play in your design. From North facing to South facing rooms, through to artificially lit rooms and those with no natural light source at all, there are many factors you need to think about before settling on your perfect colour palette.

The first step when decorating is of course to choose a colour palette you love - but there are a few more essential colour considerations that are too often over-looked in the design process too. Firstly, the direction a room faces has a massive impact on how a colour will look on the walls, with north facing rooms typically being darker and cooler while south facing rooms benefit from floods of light and a much warmer feeling throughout the day.

We recommend you use these attributes as a basis for your colour choices and play to your rooms' strengths – opting for darker and moodier tones in north facing rooms and paler, chalky colours in the lighter south facing bathrooms. Shades of deep plum, moody blue or slate grey in a north facing will create drama and a cocooning feel, while brighter and softer paint colours in a south facing bathroom will make the most of the daylight and create a fresh and airy environment.
Shining a light on your chosen colour
If you're at the point where you've chosen your dream colour, but want to 'try before you buy', we recommend painting a large sheet of paper in your chosen tone and sticking it up in the room for several days. This will give you a chance to see how it behaves in both the bathroom light and natural light at different times of day, and enable you to move the paper to different walls to see which one works the best.
Faking it
Artificial light is undoubtedly harder to work with, especially in rooms with no natural light at all to play with. Common in en-suites and cloakrooms, areas with no windows require even more planning prior to painting. The type of bathroom lighting, colour of the bulbs and amount of lighting outlets all have a massive impact on a colour.

As a first step, we recommend replacing your current bulbs with 'white light' bulbs if you are hoping to replicate the feeling of 'natural light' in your space, and testing your painted paper in this setting for a more accurate test of how it will look.
Go Bespoke
To create your own bathroom concept, feel free to express your personality and design it to fit in with your lifestyle. Heritage's freestanding cast iron baths are ideal for a unique touch as they can be easily painted to the colour of your choice. For those looking for the next step to make your bathroom truly yours, Industville offers a customised and bespoke bathroom lighting service tailored to your design requirements.
To see the full collection by Industville, visit www.industville.co.uk or their showroom in London. For more design inspiration and interiors advice, follow Heritage Bathrooms on Facebook, Twitter, Instagram and Pinterest.
-----
Note: Electrics and water do not mix well so before installing lighting in your bathroom please consult with your electrician. All Industville lights are suitable to be installed outside zone 2 - the area stretching 0.6m outside the perimeter of the bath and to a height of 2.25m from the floor. In addition to the area around a wash basin, within a 60cm radius of any tap. In this zone an IP rating of at least IP44 is required. For IP rated lights please visit http://bit.ly/2y7E93B.