The trend for opulent metallics in fashion and home interiors is far from losing its shine, and we continue to see glistening tones featured in everything from jewellery and handbags to lamps and picture frames and yes, you've got it, our bathroom suites.
The warm pink hue of rose gold, which gets its finish mainly from a mixture of traditional yellow gold and copper, is this season rising to the top of the design pile as we shift away from cooler tones like gun metal and silver, and instead seek out subtle and softer colourways. From designers like Tom Dixon through to jewellery designer Monica Vinader – everything is coming up roses.
Whether you're looking at embellishing or enhancing a traditional white bathroom suite, or creating a more liveable space that is an extension of other décor themes throughout your home – there is a real trend in starting to treat our bathroom design ideas in the same way we've accessorised our outfits with trend led fashions for decades. It's this shift in thinking that took us to the moodboards, exploring the use of this rose gold across Heritage's product range.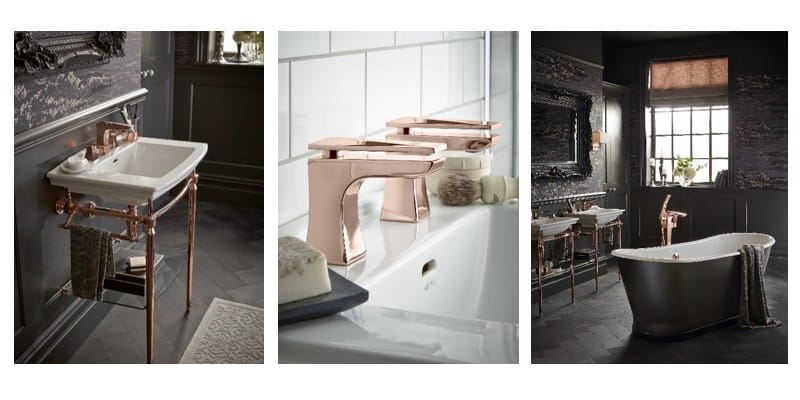 "Beyond its practical function, the bathroom is a room for relaxing - a mini retreat to prepare you for the daily grind, and we strongly believe that you should make your bathroom a space that promotes wellbeing by incorporating beautiful colours, products and materials," Tina Robinson, product manager at Heritage.
Warming in winter and sun kissed in summer, rose gold allows you to create bathroom styling that will work all year round. Whether set in a romantic vintage bathroom suite or one that oozes more modern glamour, rose gold is the perfect accent tone when set against key colour trends of the season; pale grey, dusky blue and soft blush pink. Here's our top bathroom ideas on how you can add a rosy glow to your bathroom suite using our product collections.
The Great Hemsby
The Heritage Bathrooms Hemsby range can give you a host of beautiful additions to suit your needs. Inspired by striking architecture, and now with the added flair of this seasons hot rose gold hue its sleek, faceted design is beautifully accentuated. Offering a variety of product options, including four basin tap options, four bath tap options and a sleek floor standing mixer option there is also a stunning shower design and plate.
Palatial Abingdon Washstand
For those of you looking to make a bit more of a colour burst, our rose gold Abingdon washstand which pairs with the Blenheim basin, creates a boutique boudoir feel and is the perfect partner with our Hemsby range too. We all know the devil is in the detail and so to make sure we give you a cohesive look throughout, we have created complementary rose gold bottle traps, wastes, cistern levers and WC hinges.
For more bathroom designs for the home and interiors advice, follow us on Facebook, Twitter, Instagram and Pinterest.