Who doesn't want to feel like lord or lady of the manor? Well now you can, thanks to our latest Georgian inspired Claverton bathroom range.
If you're looking to add some romance into your bathroom then look no further. With a vintage and boutique feel, the sweeping curves of the Claverton range blends the bedroom and bathroom and leaves you with a space you'd normally expect to find in a luxury hotel or retreat.
"For those of you who crave a unique vintage feel, you'll enjoy the fun and frivolity of pairing a Claverton basin with a stunning chrome washstand base, adding an on-trend touch of industrial luxe. To take your interior design to the next level, pair your Claverton suite with our sweeping metallic-effect freestanding Holywell bath for an even more dramatic finishing flourish," Tina Robinson, product manager at Heritage.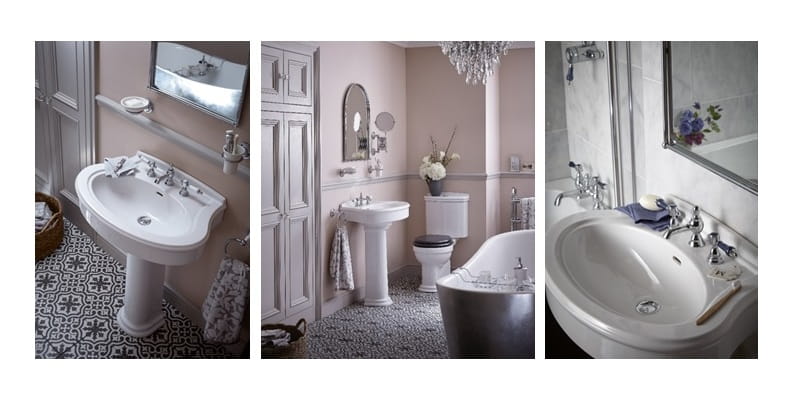 Be transported through time with Claverton
When planning this romantic suite, our designers drew influence from its grand architectural namesake, Claverton Manor in Somerset - a stunning eighteenth-century house surrounded by landscaped parks and boasting a striking rounded facade.
Capturing this in the unique curvaceous design and soft detailing of the range - Claverton is a perfect bathroom suite to meet the trend of romanticism in the bathroom. The oval basin, a first in our collection, comes in three options including a brand new washstand base and a pedestal for those looking for a more traditional finish, plus two WC options and an elegant fitted acrylic bath.
Steal the Claverton Style
Claverton is certainly not all style over substance, and can give you a perfect sanctuary to escape to - reminiscent of the dreamy femininity you'd find in the pages of a Jane Austin novel. Its opulent grandeur but practical functionality within a family bathroom setting mean it can be teamed with on trend blush tones and cut crystal chandeliers for a feminine and delicate finish, or mixed with bold patterned floor tiles and a striking metallic effect bath for a more distinctive take on the period look.
So, if you're looking to create a truly regal bathroom that oozes romance and elegance, and step away from a minimalist scheme in favour of a vintage-inspired boudoir bathroom space, look no further than this timeless bathroom suite.
For more design inspiration and interiors advice, follow us on Facebook, Twitter, Instagram and Pinterest.