A bathroom renovation is a big project and, as exciting as it can be it can be, we understand that at times it might feel a bit intimidating. To help you get to grips with all the things you might need to consider for your beautiful new bathroom our showroom designer Charlie Williams has compiled six top tips:
1. Picking the right products
Firstly, always consider the layout of your new bathroom. Everything you choose needs to fit into your space and leave enough room to be accessible. Often the easiest option is to replace items in position like for like, which also saves time and money as water supplier do not have to be moved. However if you want to make more of the space sometimes changing the placement of just one item like your basin can make a big difference.
You will need consider the heights and weights of products too; for example, cast iron baths are beautiful but are much heavier than a freestanding acrylic option. Similarly, a Chesham Grand bathroom mirror might look fantastic in your room but, to avoid falling in love with something that simply won't fit, you should consider the dimensions of larger products like this from the outset.
It is also important to consider your water pressure and how water is supplied to your bathroom. This is particularly important when you come to choose taps and showers as that drenching head might not give you the soaking experience you want if you have low water pressure.
2. Consider your lifestyle
Think about how you use your bathroom. Without considering your lifestyle, you might overlook simple changes that will improve your day-to-day experience and give the room real longevity. For example, if you need bathroom storage incorporating a tall or short boy from our Caversham freestanding bathroom furniture range might be the ideal way to give you a little extra space and a place for what otherwise might feel like clutter.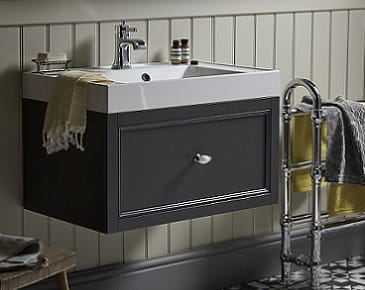 You may also consider products that are easier to use for other members of the family, such as comfort height toilets or lever taps, both of which still offer fabulous style and great designer detailing, but make the bathroom a touch more functional for multi-generational use.
3. Cheap bathrooms are not always a good investment
In terms of both products and installation, the phrase 'you get what you pay for' really does apply when it comes to bathrooms. It can certainly be worth investing in a higher quality items, especially a quality bathroom suite, as not only will you get something that lasts you will also have the security of good guarantees and technical support if something does go wrong.
We'd also always recommend visiting a showroom to look at the products you're considering. Everyone likes to get a good deal but it's always important to consider why it's cheaper and what you might be missing out on.
4. Selecting a suitable heated towel rail
Bathrooms are often one of the smallest rooms in the house, and it's easy to choose a really large or tall towel radiator. But there are lots of stylish smaller and more compact options are available, like the Baby Clifton or Oakham (below), that will still keep your room nice and warm but won't dominate the space.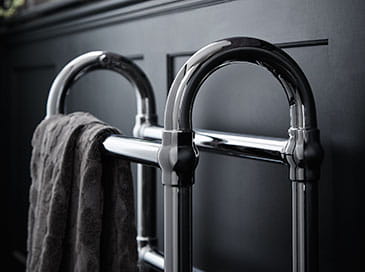 Also pay attention to the British Thermal Units (BTUs) given against your radiator as a cheaper option might save you money at the point of purchase, but cost you more because of it's poor heat output. High BTUs will mean your room warms up faster and your towels are always fluffy and warm.
5. Choosing beautiful bathroom tiles
Think about the style, space and colours you're using in your new bathroom to help you find the perfect tiles ahead of time. Choosing tiles at the last minute can be a costly decision if you decide to replace or remove them later.
For example, if you have a small bathroom, larger tiles can help the room feel larger. Likewise, lighter colours tend to work well in a more enclosed space, especially if you have limited natural light sources. Or, if you're lucky enough to have an older property with high ceilings, art deco tiles that accentuate the height of the room with darker linear patterns against a soft white can look fantastic.
6. Remember the finishing touches
It's easy to forget about them, but it's well worth keeping a bit of budget back for finishing touches. This can be anything from some elegant accessories, stylish towels to tie in with your new colour scheme or some luxurious lighting, like the glamourous designs available from our friends at Industville. These elements can easily be overlooked, but they make a huge difference and will make your new bathroom haven the perfect place to relax after all your hard work.
For more design inspiration and interiors advice, follow us on Facebook, Twitter, Instagram and Pinterest.