Being a parent is hard work, and often involves a severe lack of sleep, so it's really important to take some time for yourself when you get the chance, to unwind and to relax, so you don't go completely crazy!
Becoming a mother was the best thing that ever happened to me - but like most people, at times my child drives me a little bit insane and I become desperate for some time to myself, to just be me for a little while, not just 'mummy'.
For some of that very important 'me time' I like to escape to the bathroom for a nice, long pamper session - so not only do I have some time to unwind, but I feel a bit better about myself afterwards too.
I do love a really nice bath oil, but a bath full of bubbles really relaxes me. I love to use the Neal's Yard Aromatic Foaming Bath - you only need a bit to get loads of soft fluffy bubbles to sink into, and the dark blue bottle looks lovely sitting in your bathroom. I also find candles that are subtly scented incredibly relaxing to have around me whilst I'm in the bath - the soft lighting that a candle brings to a room really helps to create a relaxing atmosphere. The White Company's Limited Edition White Rose Candle is beautifully simple and a new favourite of mine. It smells clean and fresh and looks really pretty when lit.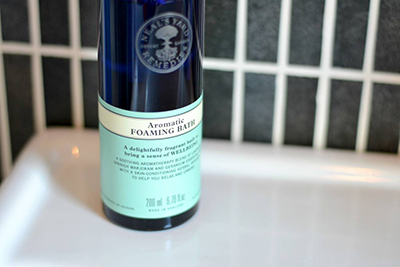 I love to do a face mask whilst I'm in the bath, and try to do one once a week to clear out and freshen up my skin. Looking after my skin has become really important to me as I've got older, but I don't always have loads of time to spend looking after it. The Sanctuary Spa 5 Minute Thermal Detox Mask is great for when you haven't got loads of time. I was initially drawn to it by the '5 minute' promise and the fact it warms up as you smear it across your face. I really enjoy using it every time I do, and my face always felt lovely and soft and clear afterwards.
I love to read, and really enjoy a good book to help me switch off and escape from reality for a little while, so I usually take a book in the bath with me during my pamper session, preferably with a glass of red wine too! My bathroom is quite small and uninspiring right now, but I hope to one day have a huge, bright bathroom with a huge freestanding bathtub. I ADORE the metallic effect tubs from Heritage Bathrooms.
After a long, luxurious bath I like to get all cosy and snuggly in my lovely thick dressing gown, and settle in bed with some mindless TV, before hopefully drifting off into a peaceful sleep!
For more 'me time' tips, visit my blog, or check out Heritage's Pinterest boards on all things pampering!