It isn't just electrical light that can transform a bathroom space! Create a light and spacious Heritage bathroom with these nifty tips, optical tricks, and the perfect choice of suite. If you're stuck with a smaller space, read on for all the best advice on how to transform your bathroom without need for an expensive extension.
It's all in the paintwork
It's no secret that it's the lighter and brighter the better when it comes to paintwork in a small space. Using white or neutral tones will reflect the light, and increase the sense of space in your bathroom, whereas darker colours can have the opposite effect. Whites, off-whites, and light greys are in keeping with current bathroom trends, and will also help to create a spacious and light bathroom.
Be sure that your ceiling colour isn't too far from the colour you use on your walls. For the best sense of spaciousness, use the same paint for both; or, for a slight variation, the same colour in a just a shade lighter.
Blending the transitions
When working with a smaller space, try not to create easily distinguishable zones. Making one large, light and spacious bathroom will feel far more luxurious than crushing too much into one repressive room.
Be sure that materials match up: use the same tile for your splash back and shower cubicle, and be sure that tile is a similar tone to the colour on your walls. If possible, take tiling all the way up to the ceiling line in shower. It may sound strange, but when trying to create a sense of spaciousness in your shower cubical, it's best to use smaller tiles in a brick style layout, rather than larger square panels.
Top tip: work hard to get the closest match for your grout and tiles—too much distinction between them will make the joins obvious, and detract from your sense of spaciousness.
Simple style, clean lines
You should approach your choice of suite and bathroom goods in the same way as you do your decoration. Simple, clean, and light—always.
If you're pushed for space and want to make the most of every square foot, turn to a corner basin for a brilliant solution to your space constrictions. Making use of your corners will leave extra space in the room, giving the impression of a spacious bathroom. Finding ways to place WCs and basins on the same wall will also give you more space to play with for the rest of your bathroom fittings.
Make the most of your floor
The flooring in your bathroom should be both simple and functional: avoid heavy colours or ornate designs; open up the space by using light colours with seamless, repetitive layout. Pale, whitewashed floorboards—as inspired by the Scandi trend—is a great option to create a light bathroom space.
Wall mounted fixtures are another great way of making the most of your bathroom. It's a clever way to trick the eye: if more floor space is visible, the room will feel larger—a kind of optical illusion! Another good way to achieve this is to ensure as much 'leggy' furniture as possible. For this reason, the Abingdon washstands make a fantastic fixture for a light and spacious Heritage bathroom.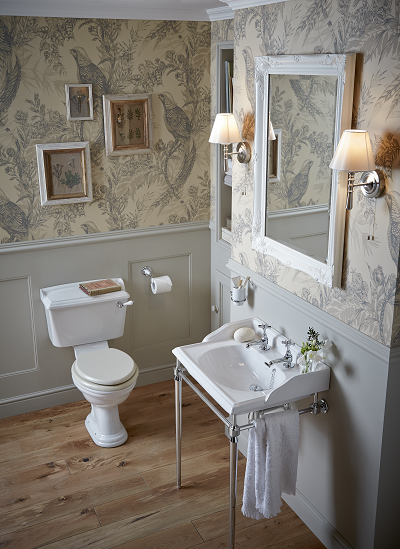 Reflect the light
As well as being a major bathroom trend for 2016, statement mirrors are fantastic way to create a light and spacious bathroom. The key is in the placement: you want to reflect something beautiful; like the window or freestanding bathtub.
If you have a large window with a beautiful vista, placing a feature mirror on the opposite wall will hugely increase the amount of light within the room, and could nearly double the sense of size in your bathroom. Choose the Bayswater mirror for opulent addition to your light bathroom; or, for a more contemporary look in a smaller space, opt for a frameless option, such as the Heritage Arched mirror.
How to handle the lighting
Maximising your natural light will always be the best way to create a spacious and light bathroom. If possible, avoid heavy adornments and window dressings, such as dense curtains, blinds, shutters, and frosted glass. If you're stuck for natural light, though, there are some clever lighting solutions to help make your bathroom bright.
Installing a clear combination of varied light sources is the best way to get a bright lighting design in your bathroom. Use task lighting around your mirror to ensure functionality: avoid lights above the mirror; instead, try to install bulbs at eye-level either side of your mirror to achieve the best effect. Ambient lighting should be installed above major features such as the bath, shower, and sink. For a relaxing bathroom space, ensure your main lights can be controlled by a dimmer; enabling you to set just the right atmosphere for your long soak in the bath.
Get rid of the clutter and the cupboards
Using transparent accessories and shelving is another great optical trick to make your bathroom seem bigger. Get rid of the old shower curtain: instead, opt for a cubicle with clear glass and frameless doors. You'll notice the difference it makes to your room immediately.
If you can, avoid storing anything non-essential in your bathroom. Move the linen and towels elsewhere, and reclaim that cupboard space. Utilise Heritage's Holborn double glass shelf for a decorative and functional form of storage that removes any sense of barrier from your bathroom. Choosing accessories in glass or stainless steel will be the best way to create a sense of spaciousness in your finishing touches.