Lotions, potions and make-up – when it comes to styling your bathroom do you keep them on display or hidden away out of sight?
My own preference is for a fairly minimal uncluttered look, so I tend to keep most of my toiletries and skincare products tucked away in a cupboard or drawer. It's all to easy to knock things over in a small bathroom when you are rushing to get ready in the morning so I just find it easier to stay organised that way. Plus exposure to heat, sunlight and humidity can cause some products to deteriorate, so storing them in a cool dry place can help them to last longer too.
Bathrooms are often busy hardworking spaces so they need to be designed with practicality in mind, but they are also somewhere we retreat to when we want to relax and unwind so they need to feel luxurious and inviting too. If a space is too functional it can feel cold and sterile, especially if it's full of hard surfaces as most bathrooms are. Too offset this I like to look for ways of introducing different textures and materials – soft fluffy white towels, a piece of decorative coral or a hand-woven basket for example. And I will often pick out one or two favourite jars and bottles – a favourite skincare product that I use daily or perhaps a beautiful perfume bottle – and leave them on display to add a finishing touch.
Here are 5 ways to bring lotions, potions and other accessories into your bathroom without creating clutter.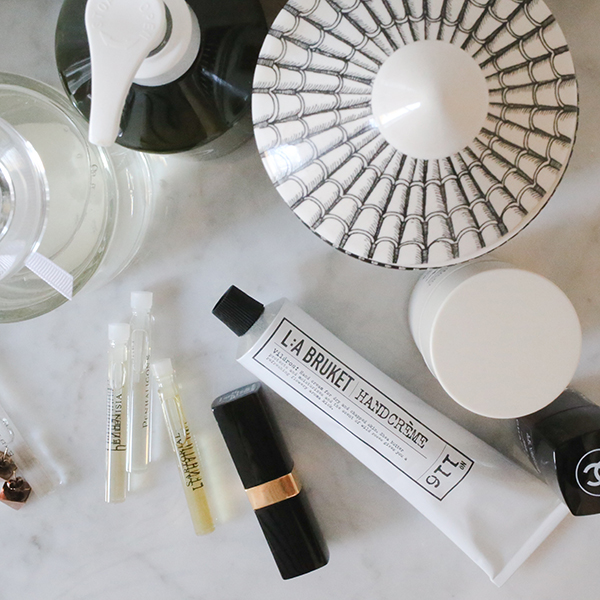 Image: Design Hunter
Decant products into colour co-ordinating dispensers
Obviously I'm not suggesting you do this with everything, but if that bright purple shower gel you've been using clashes wildly with the lovely soft neutral colour scheme you've created in your bathroom you could always pour it into a simple white dispenser.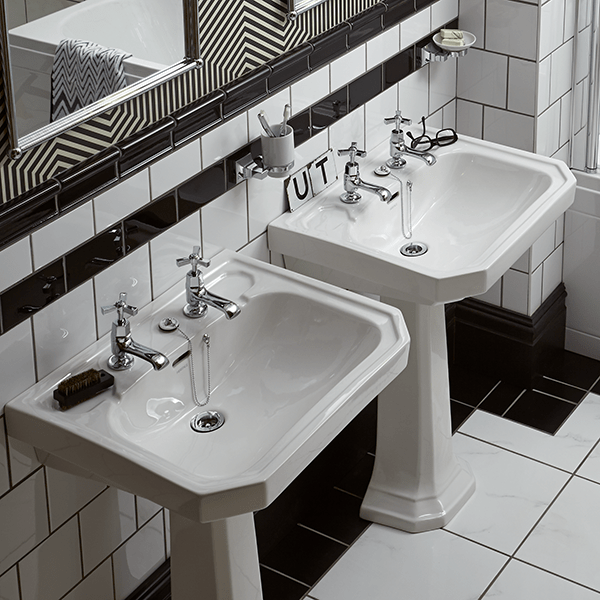 Image: Granley Deco bathroom - Heritage Bathrooms
Use products with a strong visual identity as styling details
Products with strong typography or luxurious packaging can be great for adding that final decorative touch when you are styling a room. Choose things with a visual identity that will complement the style of your bathroom – a classic Chanel perfume bottle in an art deco style bathroom like the Granley Deco for example.
Incorporate fragrance
A luxurious scented candle in a decorative jar is a sensual bathtime treat, but it can add a stylish decorative detail when not in use too.
I also sometimes like to have a small vase of flowers in the bathroom, especially when guests are visiting – a bud vase with a single bloom next to the sink is a nice touch.
Group things together
I'm a big fan of grouping objects together on trays to create little vignettes – it looks neat, organised and decorative. I use clear acrylic trays from Muji in my bathroom but trays can also be used to introduce a contrasting colour or material – brass is very popular at the moment and there are lots of great brass trays around.
and finally…
Throw away out of date products that you don't use
That body lotion that you received for Christmas two years ago and never really liked - ditch it. If you haven't used it by now, chances are you never will. Free up space and you'll enjoy your bathroom all the more.
And don't forget to follow Heritage Bathroom's Facebook, Twitter, Instagram and Pinterest pages for even more inspiration.