Whether you're feeling like a simple refresh or a total makeover, autumn is a great time to do over your bathroom design. 'Tis the season of gorgeous colours, after all: so take some inspiration from the changing leaves on the trees, and start to get cosy with your updated bathroom design this season. Here are the top trends we recommend for Autumn 2016: adding just a touch of transformation for a fresh new look.
The many shades of grey
If you're looking for a neutral autumn trend that doesn't focus around those bolder colours, look to the grey scale for inspiration this season. With natural materials and themes still a big trend as we progress into the colder months, those winter-morning greys will give a fresh update to your bathroom walls.
Think dove hues, dull silvers, and pale smoke; this season's neutrals all come from the grey scale, and no colour is more appropriate for your autumn to winter transition! Bring autumn décor into your bathroom with lush towelling and other accessories. An acrylic bath in silver or stainless steel effect will be the perfect feature piece for your neutrally themed bathroom. For a decorative touch, look to minimalist, natural designs: pale wooden accents for your shelving and Scandi-inspired branches instead of a vase full of colourful flowers.
Autumn hues
Let's face it—there's no better British season for colour than autumn. As the trees shed their leaves and the weather starts to change, the countryside is filled with the most beautiful and diverse collage of colours: reds, oranges, greens, browns, and a combination of all. Autumn hues are rich, bold, and vivid tones that speak to the soul, bringing a sense of warmth and cosiness into any space.
Fill your bathroom with autumn trends and inspiration with an updated colour scheme that matches the view from your window. Burnt oranges, deep reds, and rich coppers are the honest autumn tones that should be at the top of your tester list. A fantastic pairing with 2016s omnipresent mixed metallics trend, this bathroom update will bring warmth and richness to your room design.
If you're working with a small room, be sure you don't decrease the sense of space by painting walls in a darker colour: instead, bring the autumn colours and hues in by focusing the intense colour on a single, statement wall; paint the other walls a neutral, café-au-lait colour to complement. You can also introduce this trend through coloured towelling or tiled splash backs. Think with all five senses for this autumn décor trend: scented candles with rich, fruity, or smoky overtones and cinnamon scented hand wash are sure to herald the season with very little DIY effort!
Mixed metallics
We love this trend for 2016: gone are the days when it was either silver or gold—and never the twain should meet. Instead, bathroom design is looking shinier than ever with this exciting, up-to-date trend that encourages silver, gold, copper and brass to sit side-by-side.
Feature a copper effect bath: no need to replace the aluminium taps thanks to this trend! The Holywell freestanding acrylic bath in copper effect will make a stunning addition to your updated bathroom: a perfect piece to make to most of your new autumn décor. Bold, feature baths such as this are ever increasing in popularity—bringing a sense of luxury to bathrooms, whilst still maintaining that essential functionality. Whatever metallic effect you choose for your acrylic bath, beat the trend by selecting a different finish for the Abingdon washstand. The exposed legs of this seriously stylish basin are perfect to pair with the mixed metallics trend.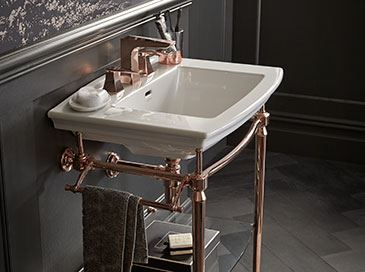 Statement mirrors
Thanks to the Great Gatsby, we're still enjoying that renewed roaring twenties trend; giving us all permission to get excessive and decadent in design! Although you might be taking a miss on the cocktail glasses filled with diamonds, there are other ways to scream 'luxury' with your updated autumn décor. Make a feature with a statement mirror: you'll be surprised by just how much a difference it can make in your room.
Increasing the sense of size and space, as well as bringing an immediate look of opulence, statement mirrors can be an incredibly easy way of updating your bathroom design to the latest trend. Feature an ornate mirror, such as the amazingly intricate Archway mirror, to reflect your beautiful copper effect bath: achieving at least two of the top autumn bathroom trends in one go! And, if you're wanting to go really luxurious in your bathroom makeover; imagine yourself sipping champagne in the Lyddington freestanding acrylic double-ended bath in gold effect—can you get any more Gatsby than that?
Blending the past modern
A trend looking at how we can incorporate traditional looks with modern design and materials—this is still a major style as we transition into autumn of 2016. The best ways to achieve this look? Keep an eye out for vintage or reclaimed tiles with interesting patterns: a little of this goes a very long way in your bathroom. Whether it's an ornate, Edwardian tile or a bolder, retro mould—a splash back or shower tiling in these vintage styles will make a distinctive feature.
Accompany this trend with items that speak of the past: map design prints on the walls, and a feature piece of bathroom furniture—such as a leather armchair—will truly speak to that popular 'vintage explorer' look in your new bathroom.
Whether it's the Great Gatsby that has got you inspired, or it's simply the change in the seasons, be sure to feature our Heritage range as part of your new autumn décor.