Why not add a touch of personality to your bathroom by adding a hint of the country-chic look; read on to find how the best ways to incorporate the trend into your new Heritage bathroom.
How to create a country bathroom with Heritage
The country bathroom look is a trend that is still going strong. Why not bring that subtle elegance and femininity into your new bathroom design? This look is all about adding the antique touch to your home, but you don't have to scour the vintage shops to achieve the same effect.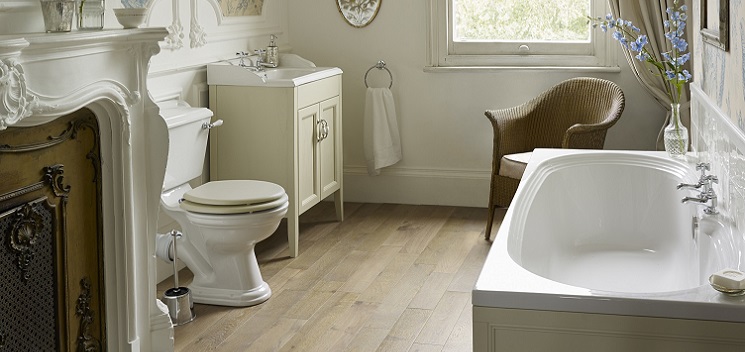 Find the perfect palette for your country bathroom
White is ever popular in bathrooms for very obvious reasons—so find a neutral, off-white tone to create a perfect, elegant vibe for your bathroom. White and off-white colours really complement earthy tones, which are a must for a country bathroom. Use rich greens, browns and creams to get that perfect country style, whether this is on your walls or in your bathroom accessories.
Country bathroom walls
If tiling your walls, find something to give that vintage vibe: a white tile with a slightly cracked look to the gloss will give a worn-in feel. Use a grey grout underneath your white tiles to avoid a super-contemporary look. White tiles with a darker grout will give a great look without having to sacrifice any practicality in your bathroom design.

A neutral paint, too, will never go amiss. Consider mixing two walling types together to achieve a really standout, country bathroom. Tile the lower part of your walls and finish two-thirds up with a distinctive border tile; finish above with a neutral paint to really complement the tiling.

For something a little more daring, choose a bathroom wallpaper to finish the top third of your walls. A delicate, floral design will bring a touch of warmth and elegance to your country bathroom.

Using natural materials on your walls is also a great way to achieve the country bathroom look. A stone or wood effect tile suit the country look perfectly. If you have a bigger budget and more time, wood panelling shouts country bathroom.
Metal fixtures and exposed fittings
Choosing the right metallic tones to complement your country bathroom is important to set the right atmosphere. Brass tones will always bring a hint of old-school glamour to a bathroom, and on-trend 'rose gold' - rose gold products have been deleted from the range is also a great choice for country-chic taps.

The Abingdon Washstands from Heritage offer a great crossover between style and functionality; the exposed legs will immediately evoke the country-chic look, whilst their basins remain infinitely practical.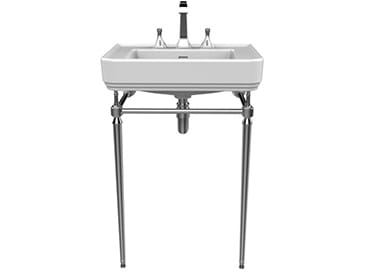 Finding the right fixtures and fittings
Choosing the right interior furniture is essential when looking to create a new country bathroom. The Claverton range from Heritage offers the perfect companion pieces for a sophisticated, chic bathroom. The Claverton suite combines relaxed femininity and elegance, with its curvaceous lines and deep, sweeping basins: it will complete the country-chic vibe of your new bathroom with romantic, but functional, ease.

An elegant, country bathroom wouldn't be complete without a vanity unit. Combine style and design for a compact solution and choose the Claverton Semi Recessed Basin. With the look of the vanity below and curvaceous basin above, it's the perfect fit. Achieving your distinctively individual country bathroom design is all about finding the right balance of style and practicality.

The Claverton range also offers companion pieces in baths and WCs, to maintain a sense of continuing elegance throughout your new bathroom design. Select the sophisticated, fitted bath for a real statement in your new and elegant bathroom design.


Finishing touches to achieve the country bathroom look
When it comes down to it, the ambiance of a room is all in the finer details. A country bathroom can be styled in so many ways: frilly curtains and ornamental touches for a Victoriana vibe, or shells, candles, and photos for a homespun feel. Express your own interpretation of the country-chic trend by choosing the right accessories for your bathroom.

Lighten the space with the soft accents of an oil lamp. A beautiful object in itself, an oil lamp will immediately act as a standout accessory in your bathroom. Add a few drops of essential oils to the lamp to fill your elegant bathroom with tranquil scents. Oil lamps put out more light than a candle, and are safer; they give out a beautifully soft glow—what better lighting for your long, relaxing soak?

For a main source of lighting, don't opt for the standard, contemporary lights of today. Find a sophisticated and statement chandelier to draw the eye in your country bathroom. Wooden light fittings are also guaranteed to evoke the country-chic look in your new bathroom design.

Magically expand the size of your bathroom by featuring a large mirror on one of your walls; it will bring a sense of glamour to your new country bathroom. Choose a distressed, cornice-style frame for a look of homespun charm. You can even up-cycle a mirror of your choice to get the same look for less, with chalk paint.

Finish off the look in your country bathroom with a few delicate touches. Replace the old bathmat with a duckboard mat, bringing the sense of a warm, wooden interior into your bathroom. Embellish a surface with a vase of flowers, and choose hand towels in colours that complement the rest of the room. Those last subtle touches will make a real difference in your new and elegant country bathroom.

Don't be afraid to create your own little accessories too. Wrapping rope around clear containers and vases is a really simple way to create a country-chic look. Or why not put some stones in a vase and of course, what better way to achieve the country bathroom look than adding some indoor plants?

If the country bathroom look isn't for you and you're after something more glamorous, why not take a look at how to create the hotel look for your bathroom instead?