From the quality of the shower to the fluffy towels and bathroom products, there are so many luxury hotel hallmarks that start in the bathroom. As a luxury travel blogger, I have seen my fair share of beautiful bathrooms from around the world. The ones that stick in my memory are the ones that combine striking design with local features and details. If you're looking for bathroom inspiration, let me take you on a tour of my favourite luxury bathrooms from around the world…
Four Seasons Jimbaran Bay, Bali
I stayed at the Four Seasons Jimbaran Bay in January 2016 following a huge refurbishment on the waterfront villas. The finished result was one of the most beautiful bathrooms I have ever seen, with its striking central bathtub, light stonework and state of the art lighting. The bathrobe was a traditional Balinese kimono, which was a charming touch. I also loved the extra bath side amenities such as the incense sticks and bath salts.
Monastero Santa Rosa, Amalfi Italy
Monastero Santa Rosa is a spectacular boutique hotel on the Amalfi Coast in Italy, located in an old Monastery. The old nuns rooms have been transformed into beautiful suites, with bathrooms to match. I loved the heated flooring built in to the bathroom and the soothing lighting. The bathtub was huge and surrounded by sweet trinket jars and aromatic bath products (shown above).
Hideaway Beach Resort and Spa, Maldives
Hideaway Resort in The Maldives is located on its own private island, and is the definition of paradise. Whilst there was no bathtub within the bathrooms, the showers were energizing and invigorating. One reason I loved this bathroom is because there was unlimited Molton Brown toiletries, including my favourite ever 'Blissful Templetree' scent. The smell is so exotic and perfectly fitting with the location.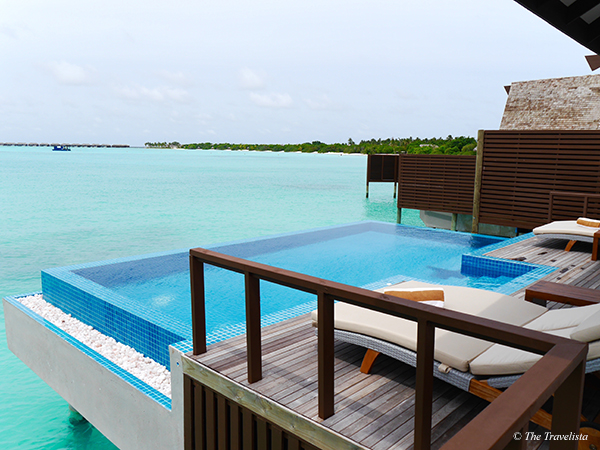 La Blanc Spa Resort, Cancun Mexico
La Blanc's chic bathroom design is perfect for couples looking for an intimate hotel stay. An open wall exposes the large Jacuzzi bathtub from the bedroom, which can be concealed by thin white drapes. This room came with a 'bath salt' menu and you could even ask your butler to draw you a bath with your bath salt selection. The Bvlgari toiletries and body scrub were also very luxurious additions.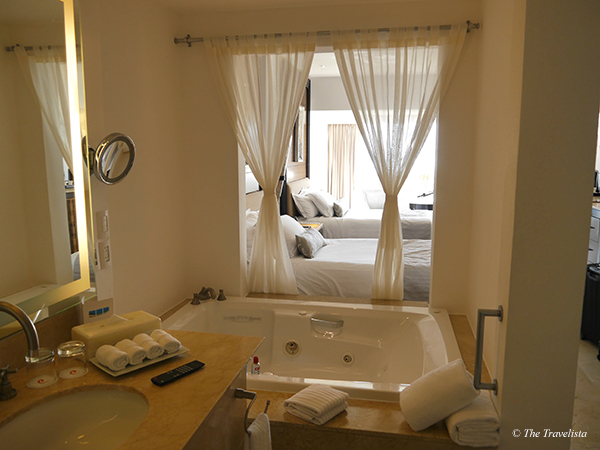 Four Seasons Sayan, Bali
With its deep teak interiors, marble flooring and Balinese shutters, my bathroom at the Four Seasons Sayan complimented the lush jungle it was surrounded by. The design of the suite was based around a traditional Balinese home, which transcended into the bathroom. There was also a private outdoor shower area, which was an invigorating experience.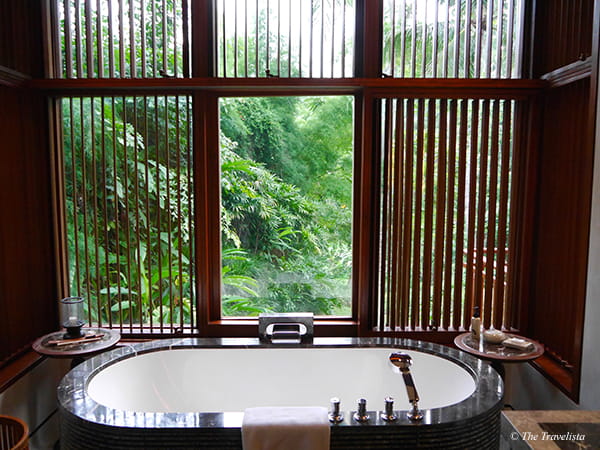 Inspired by these exotic bathrooms from around the world? Check out Jess' 7 Steps to a luxury Spa Experience at home and you can follow Jess on Twitter: @travelistajess, Facebook: The Travelista and Instagram: @thetravelista.