Creating a luxury bathroom in your home can sound as extravagant as the name - a luxury. But a Heritage bathroom can give you so much more than lush interiors: the aesthetics are one thing, but the sensation is another entirely. Create a relaxing bathroom and transform your space with the help of Heritage; add an hour or two of tranquility into your daily routine, without having to set foot outside your own front door.
With National Relaxation Day just around the corner on the 15th of August 2016, there's no better way to celebrate than by designing your own relaxing Heritage bathroom. Read on for Heritage top tips on creating your bespoke bathroom space, with some extra hints on how to relax and unwind along the way.
Let the light in
The best way to create the perfect tranquil bathroom setting for a relaxing hour in your bespoke bathtub is to let the light in. Avoid harsh, artificial strip lights, and make the most of the natural light. Dress your windows in elegant coverings that beautifully disperse the sunlight: wooden Venetian blinds can make a stylish and discreet dressing for your bathroom windows.
Ensure your lights are fitted with dimmer switches, so you can control precisely the level of light in your bathroom at any time of day; mimic the tranquility of a low-lit dusk by dimming the lights. The best way to achieve a relaxing lighting design is to avoid a single, central ceiling light; instead, spread your light sources around the room for a softer, gentler lighting design.
Breathing in your Heritage bathroom
Focus your energy by practicing your Pranayama breathing exercises during your daily shower. In today's hectic, modern world, it's important to take time out—and just breathe. Achieve ultimate calm in the time it takes to draw just ten breaths: the perfect way to start your day.
How: Inhale deeply through your nose while raising your arms upward, then exhale through your mouth and lower your arms. Increase the length of your breaths with each go, and repeat ten times.
The benefit of this simple breathing exercise is radically increased when done in a spa- style bathroom, similar to our limited edition showers. While the steam works to clear sinuses, the repetitive sensation of the falling water will also help to focus the mind. Performed daily, you'll begin to notice the positive change in your lungs for the rest of the day.
Sink into softness
Treat your relaxing bathroom suite to the softest in bathroom furnishings. While towels, sheets, and mats should all be as lush as can be found, you can go further still in creating your spa-style bathroom. Picture your perfect bathroom: a deep, freestanding bathtub; candles all around and the scent of essential oils adrift in the air.
Upgrade your appliances
Create a relaxing bathroom by upgrading your appliances. Choose the Dawlish recessed shower with premium fixed head and flexible kit for a statement in luxury, and a perfect aid for relaxation. With the best of both worlds available to you in this bespoke shower design, including our stylish Dawlish taps that are the perfect finishing touch, you can alternate water flow with your every whim.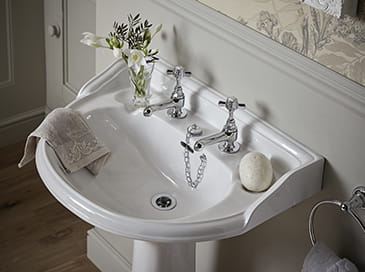 It isn't just the bathroom fittings that create a relaxing Heritage bathroom. Investing in heated elements, such as the stylish Clifton wall hung towel rail, will extend the sense of tranquillity even further in your daily bathroom routine. Ensuring your soft towels are beautifully warm is the best end to your spa shower experience.
Treat the senses
Your relaxing shower experience extends to every corner of your Heritage bathroom, and to every one of your senses. Scented candles are a great way to contribute to tranquil lighting, and to fill the air with a beautiful scent. For a long, hot soak in the bath, add essential oils to the water.
Treat the sense of touch with super soft furnishings, both around and underfoot. Install under-floor heating to truly upgrade the luxury in your new bathroom design, invest in a lush bathmat for your shower space, and make use of appropriate rugs in other areas of your bathroom. Take the clinical feel out of your bathroom by using classic furnishings in unexpected ways.
Use a feature mirror, such as the Archway mirror, to reflect the beauty of your new bathroom. Cleverly placed candles and lighting can create a sparkling effect against a statement mirror.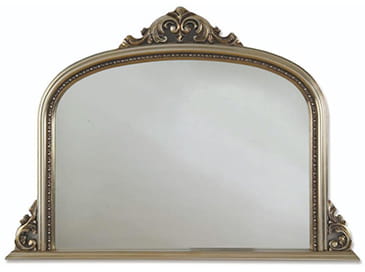 Make the most of your precious time every day and let Heritage Bathrooms help take some of the stress from your daily routine. With a new and relaxing bathroom design you'll be well on your way to feeling refreshed and revitalised.