Discover your summer style with the Heritage bathroom guide. Whether you're feeling inspired to try the carnival trend after Rio or are aiming for a classic seaside look, read on to learn all you need to know about incorporating 2016's summer trends into a classic bathroom style.
Keep it colourful
Whether it's the vivid brightness of tropical green or the rich depths of snorkel blue that inspires you, stay on trend with bright colours, one of the most popular summer bathroom ideas of the year. Many of us have been inspired by Rio, so bring some joy into your bathroom by using those bright Brazilian colours. Focus on a bold palette in greens and blues, with a yellow accent to set it all off.
To maintain a classic bathroom style, bring carnival colours into your bathroom through the clever use of accessories. Add brightly coloured towels for a pop of colour; or for something a little more extravagant, invest in a lusciously coloured piece of bathroom furniture. Pair contemporary with classic by adding a chaise longue in a bright yellow, with covered buttons to finish it off. Bright colours and splashes of floral pattern will work incredibly well in your summer bathroom, especially against a neutral background; and these will transition perfectly into the autumn season, reminding the room of its time in the sun.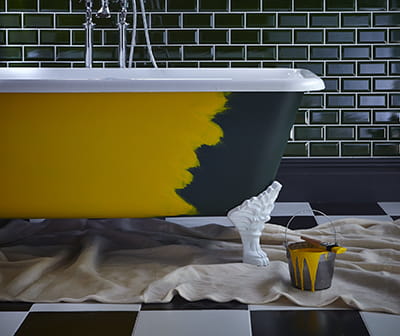 Get inspired
Frame your summer bathroom ideas around precious memories; take inspiration from your travels and introduce real personality into your Heritage style. Pick up prints, artwork and ornaments from your holidays, and introduce them sparingly throughout your bathroom. While opting for a summer holiday beach snap won't suggest the sophistication that you want for your bathroom, a well-chosen, simple framed print will speak volumes by itself and could become a real conversation piece. Relax, unwind and drink in your new bathroom design, surrounded by the memories of your travels.
Evoke the sense of distant lands with subtle influences in your colour scheme. If you're returning from the grandeur of Morocco, your metal fixtures should be gold in tone, and framed against rich, deep colours. Try adding a little pattern to your space as well – Moroccan-inspired geometric prints would be a fantastic way to add an extra element of interest to your space. If your heart lies in the south of France, introduce a delicate purple through your towelling, and accompany these with scented soaps and lotions to evoke the lavender fields of the beautiful Provence. Subtle reminders of your foreign travels will result in a truly tranquil classic bathroom style.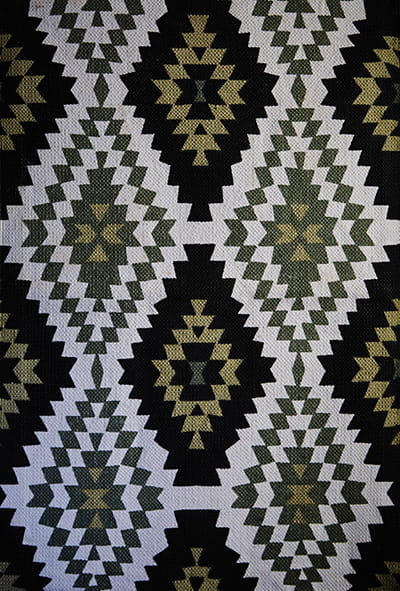 Seaside grandeur
What says 'summer' more than a trip to the seaside? Although we're not suggesting you scatter shells in your bathroom or put a bucket and spade on the windowsill, you can easily introduce a coastal feel into your bathroom without going all-out blue and white stripes.
A bright and spacious design is key to seaside-themed summer bathroom ideas. Maximising the natural light will be the best way to evoke a sense of the ocean: think of a wide, bright window, with a soft, white muslin curtain fluttering by the breeze.
Centre your seaside bathroom design on a freestanding bath. The classic yet contemporary feel of the Blenheim collection is a great suite to pair with your classic summer bathroom design. With its timeless look evoking welcoming arches and symmetrical lines, reminiscent of its namesake Blenheim Palace, this luxury suite is the perfect choice for the modern home with a traditional touch. Choose the Hadleigh acrylic double-ended bath to stand in the centre of your seaside bathroom; style with subtle seaside tones, such as muted blues, whites and yellows. A seaside theme in your bathroom should be all about the light and the space—no need for anchor accessories!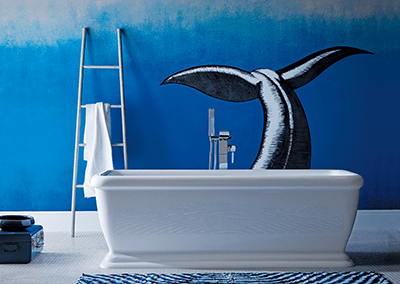 Let nature in
The Scandi look here to stay this year, and a subtle nod to Scandinavia in your classic bathroom design could work wonders. For this trend, it's all about natural materials and bright, light finishes. Exposed and whitewashed wooden flooring and up-lighting will go a long way in evoking that Nordic look in your bathroom. Keep colours natural and neutral: whites and off-whites are a simple, classic, and constant companion to this summer trend, while greys will add a more sophisticated, grown-up tone.
Keeping accessories understated is equally important; lines should be clean and classically cut. Frame your bathroom in perfect Scandi style with glass shelving, a modern and unobtrusive addition to your space. Introduce an element of colour through natural materials and nature itself: a single plant will go a long way indeed. Repurposed timbers and duckboard flooring can also go far in this design: opt for duckboard instead of the traditional bath mat to finish off your bathroom space in perfect Scandi style. Choose surfaces that incorporate natural stone or clean tiling to complete the look.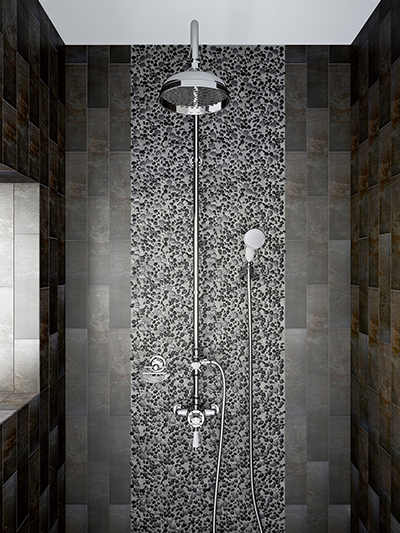 A classic suite
Whatever your taste, when you're thinking about your perfect summer bathroom style the perfect companion will always be the Blenheim suite: classic and simple, it embodies understated luxury. Although relatively modest in appearance, this traditional suite will blend perfectly with your summer styling.
Specifically…
If you're keeping it colourful—consider the Abingdon washstand for Blenheim, to maximise the sight of your bright, bold bathroom colours.
If your travels are inspiring you—complete the look with a freestanding bath, and be sure to station something reminiscent of your holidays on the wall opposite, such as a unique print from your destination.
If it's the seaside that's calling you—the Penrose freestanding bath will be the perfect addition to your bright and spacious bathroom design.
And if it's the Scandi look you're aiming for—take a look at the Victoria high level cistern, which will add an evocative design to your Nordic-inspired room.