You don't have to live in a 1920s building to create an Art-Deco feel. You can bring this into your modern day home by looking at using chevrons, zig zag designs (black and white preferably), or maybe think about bringing in some of the gold.
Introducing bold designs and patterns can initially overwhelm magnolia lovers or those with only a small space to play with. Don't let that deter you from embracing bold designs though.
If you don't want to wallpaper a whole wall in a feature paper, you could look at cutting out some of the pieces, putting them into picture frames and then arranging them in a mixed way.
The key colours to use to evoke a true Art-Deco feel are of course blacks and whites. Charlotte also recommends introducing a burst of green though as this would have been a really strong colour in that era.
Another way to compliment the Art Deco style would be to look at hexagons and angular products. You could look at using angular taps to create an Art Deco feel in the bathroom.
Our gorgeous Granley and Granley Deco suites are understated examples of how to achieve an authentic and contemporary Deco look in the home by using all of the key trends. Use these, along with smaller features including period-inspired tap ranges, such as Gracechurch, with unique handles to perfectly finish the look.
If you love this super sleek and exuberant design, you could also consider our beautiful Deco-inspired Wynwood Suite and Somersby tap collection, coming very soon! For more of Charlotte's expert tips and advice, check out her videos over on our Youtube channel here.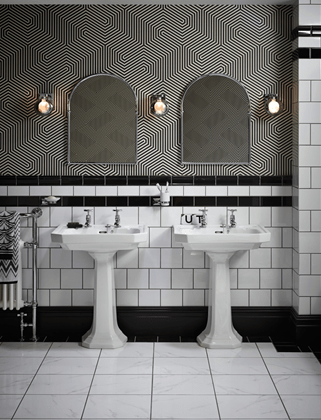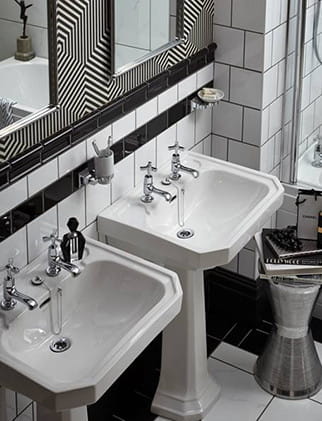 And don't forget to get a free copy of our latest brochure too for more Art Deco inspired items. You can also follow us on our Facebook, Twitter, Instagram and Pinterest pages.