Why not add a splash of sunshine and update your bathroom by introducing some key tropical elements? With statement wallpaper and nature-inspired décor, it's easier than you might think to emulate exotic locations and keep that holiday spirit alive long after your holiday has finished. So, we thought we'd give you a helping hand with our own top tips on how to achieve a tropical bathroom.
What is the tropical bathroom look?
A tropical bathroom is all about bringing the outdoors in and creating a lively, fun and fresh environment with vibrant colours and prints. You can go as far as you like with this, whether this is creating a lush, green paradise, or scaling it back to an industrial, urban feel, where the city meets the great outdoors.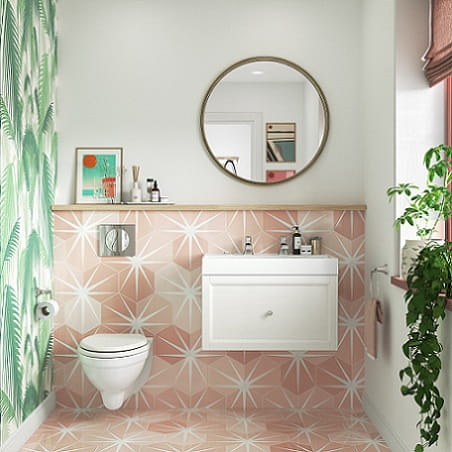 How to create a tropical bathroom
Although the idea of incorporating bright prints and colours may seem a little daunting, don't be afraid to take a step into the unknown and unleash new life in your tropical bathroom. Even the smallest tropical details can create a big impact.
Styling and designing a tropical bathroom
This look has been inspired by nature, so it's important to incorporate both manmade and natural materials to create designs full of life and tranquillity. Perhaps you've got a brick wall that you can leave exposed or can add some wooden panelling to your walls. Although, it doesn't have to be expensive, you can easily recreate the look with wooden flooring and faux brick wallpaper.

For something simpler and more budget-friendly, walls can be painted white, light grey or green with minimalist tiles and copper features. This look works great with stone and wooden fixtures.

To embrace the tropical bathroom, look in all its glory, why not add a bold wallpaper in a green leaf pattern coupled with white tiles to brighten the room and reflect the natural light.
Tropical prints really brighten and create a lively, cheerful space, for all the family to enjoy. Statement wallpaper draws the eye whilst vibrant colours keep things interesting. Adding a splash of flamingo pink can add a burst of colour too. Pink works particularly well, especially in small spaces to ignite the imagination and evoke fresh, tropical vibes.
Colour schemes for a tropical bathroom
Tropical bathrooms are all about bold colours and shiny finishes, so you can go for emerald, hot pink, blue, turquoise, yellow and many other bright colours whilst incorporating copper, silver, gold and brass. A tropical bathroom can be modern and contemporary or more vintage glam.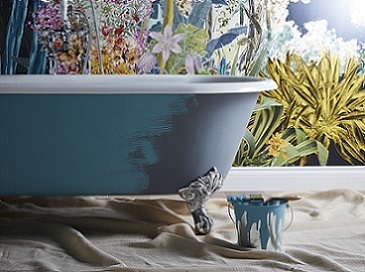 Fixtures and fittings for your tropical bathroom
If you're going for a more vintage glam tropical bathroom, a cast iron bath would be the perfect feature. Couple this with a bath shower mixer.

Or, for something more modern, a free standing bath will finish off the look, and for something bolder, we even have them in metallic colours. Pair your contemporary looking bath with either the Hemsby Bath Filler or the Somersby Bath Filler.
Accessorising your tropical bathroom
There is no better way to bring the outdoors inside for your tropical bathroom than adding some plants. As not all plants are suitable for bathrooms, you need to find ones that thrive in the warm, humid environments, such as Bird's Nest Fern, Pothos, Air Plant, Aloe Vera and more.

If like us, you are looking for a fresh bathroom revamp that will leave your friends green with envy, take a look at this year's trends, collected by our own interior designer Ali Munro, and get more ideas for your new tropical bathroom haven. Or, if a tropical bathroom seems too adventurous for your tastes, why not take a look at how to style a hotel-inspired bathroom?