What furniture should I choose?
Furniture adds beautiful structure, style and added functionality to any bathroom space. The right furniture is a key component to achieving your perfect bathroom style. Bathroom furniture is becoming increasingly popular, whether it's to make the most of a small space or add much needed storage to larger rooms, and it offers great scope to put together a bathroom that's every bit as distinctively individual as you are.
But how to choose bathroom furniture that's right for your bathroom? Don't worry - Heritage have lots of exclusive, elegantly customisable furniture options that are made to fit beautifully into your bathroom and elevate style, making it easy to choose gorgeous pieces that are right for you. The main options for furniture in the bathroom are either fitted or freestanding: take a look at the key features of both types in this useful Bathroom Furniture Guide.
Fitted bathroom furniture guide
If you're working with a slightly smaller room and want to maximise the space you have available, choosing fitted furniture is a stylish and practical option. The fact that it hugs the wall means that it makes the most of the space you have available and frees up the area in the centre of the room. An easy way of visualising the fitted furniture 'concept' is imagining the kind of furniture that you might find in a kitchen – flush to the wall and fitted in a longer run, with plenty of storage.
The 'run' of fitted furniture in your bathroom can be customised to you, depending on your needs and the shape of your bathroom. The items that you choose are up to you! Within the Heritage Bathrooms range you can choose from a selection of wall cabinets (with or without mirrors), base units, open storage units, and drawer units.
When choosing bathroom furniture that's perfect for your bathroom, we recommend going by these three important steps:
1) measure your space,
2) choose your storage, and
3) choose your 'extras'.
Measuring your space is the logical first step for fitted furniture – it has to fit your bathroom like a glove and will be there for years to come. All of our fitted bathroom furniture is made to last, with a hardwearing finish that is water resistant and easy to clean.
Elegant fitted storage options
Once the measuring is done, it's time to choose your storage – and there are a variety of options to choose from:
Wall cabinets
Made to sit higher on the wall, wall cabinets give you great storage for bathroom items. They're available in a choice of widths, with mirrored door options on some models – such as this gorgeous Caversham mirrored wall cabinet.
Base units
We make these in a choice of sizes to match the width of the wall cabinet you choose, to give your bathroom a balanced look.
Drawer unit
The key word is 'storage'! Our drawer units are available in 300mm width, with three useful storage drawers.
Toilet units
A Toliet unit is a great way to house your toliet, and make sure it blends in stylishly with the rest of your bathroom décor. To fit your toilet inside a fitted unit, you'll need to buy a back-to-wall toilet from one of our suite collections.
Vanity units
Vanity units provide a stunning way to support a semi-recessed basin, such as this elegant choice from our Claverton range. As well as giving your bathroom a sophisticated look, they are another great choice to increase storage space.
Extras to make fitted furniture your own
Once you have decided on the items you want to make up your fitted run, you then have a choice of coloured finishes, plus worktops and handles to make it distinctively yours. Adding colour is a fantastic way to construct a unified, on-trend look for your bathroom. Our Caversham furniture range is available in three different coloured finishes, which include Graphite and Dove Grey – both great colours for a strong, minimalist boutique look like our key 'Soho' trend.
If the end of your furniture run finishes with an exposed edge (as opposed to fitted neatly into an alcove, you might also want to add in a Gable End. This is a decorative panel which fits on the end of your base unit or wall cabinet to provide a sleek and neat finish.
And you can complete the look for your wall mounted units with a stylish cornice, another decorative feature to complete the look.
There's also the option to light up your vanity space with our bridge and spotlights. Use these above you basin for the perfect area to prepare for the day ahead.
At Heritage, we believe in paying attention to the details to create a truly polished, functional whole bathroom look. The doors and hinges on our fitted furniture can be fitted left or right-handed to give you a little more flexibility in your design, especially in small or awkward spaces.
The Caversham fitted furniture in Dove Grey.
Freestanding bathroom furniture guide
Freestanding furniture is independent, so can be used as a single unit on its own; ideal for a larger bathroom, or if you simply want bathroom furniture with maximum flexibility. Perfect if you're aiming for a bespoke, boutique look. At Heritage, we offer a wide selection of freestanding bathroom units:
Freestanding vanity unit
Traditional vanity units make a gorgeous focal point for any bathroom, and a delightfully bespoke-looking basin support. Our Caversham Freestanding Vanity Units comes in a choice of four colour finishes, with a wide choice of handles to make it truly your own.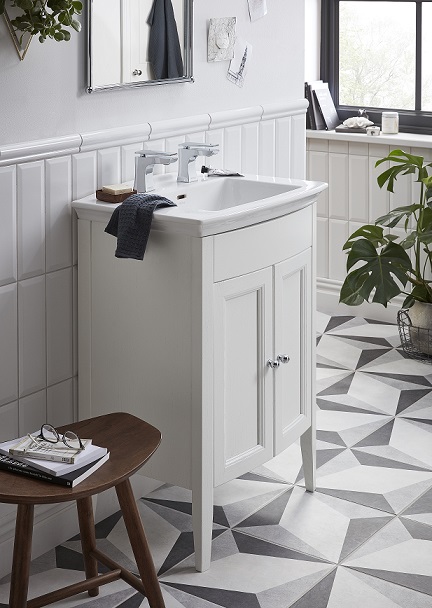 The Caversham Vanity Unit in White Ash with Blenheim basin.
Wall hung vanity unit
For a clean, modern look, consider a wall hung vanity unit like this new stylish single drawer option from our Caversham range. Sitting off the floor, wall hung vanity units are easy to clean, and can help to create the illusion of more space in smaller bathrooms.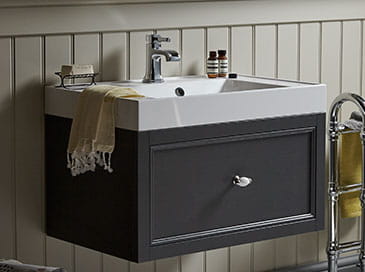 The Caversham Wall Hung Vanity Unit in Graphite with Hampstead basin.
Wall cabinet
For a wonderfully coordinated look in your bathroom, fit a double or single mirrored wall cabinet above a matching freestanding vanity unit. Our luxury bathroom cabinets are stylish and durable, made with the same outstanding quality as all Heritage products.
Tall boy
Tall boys are tall, beautiful, and give maximum flexibility, as they are completely freestanding. Our tall boys can be moved anywhere, as they need no wall fixings, and are ideal for storing linens, toiletries and cleaning essentials.
Fitted bath panels
Find Heritage bath panels available in the same shades as our Caversham bathroom furniture, enabling you to create a coordinated look in the bathroom. Alternatively, you can choose an acrylic version.
Toilet Seats
Heritage offers a wide range of Toilet seats. Choose to coordinate with your Caversham furniture with a matching shade or opt for black for a modern monochrome finish. Standard and Soft Close seats are available with either chrome or gold hinges, for a polished, sophisticated look.
Practical hints and tips
Measuring Up
Make sure you measure your bathroom carefully, so you know exactly how much room you have. This is the most important first step when it comes to how to choose bathroom furniture. Also consider how doors will open on your furniture, to be sure it will fit easily in the space you have allocated for it.
Worktops
Heritage worktops are available in a choice of finishes and include edging strips for neatness. Make sure you are confident of the size you need before ordering and before you cut into the worktop to fit.
If you want to see more beautiful bathroom furniture options from Heritage, request a brochure.