How to plan a bathroom
Whether you dream of modern luxury or Georgian-inspired elegance, planning is your first step towards creating a luxurious new bathroom. From designing the perfect theme to making the most of your resources, knowing exactly what you want from your bathroom will help you bring your vision to life. No matter how large or small your space is, our tips on how to plan a bathroom will help you create a paradise that is truly yours.
Paint an overall picture
Before beginning with practicalities, you should know what you want from your bathroom; the overall design should be present in your and your builder's minds from the very beginning, as everything from the bathroom layout to the finishing touches will be informed by your vision.
Think about what your bathroom will be used for; a busy family space will need to be practical for everyone, while an ensuite is likely to be smaller but may contain more individual touches. If you have a particular style in mind, such as a Georgian bathroom, a Victorian-inspired suite, industrial chic, or rustic charm, start looking at fittings, furnishing and decoration options now. Having an overall picture of your finished bathroom in mind will help during the rest of the planning process, as you'll allow plenty of room for the must-haves.
This is the time to be creative and give yourself freedom to experiment. Mood boards, sketches, lists of ideas, and pictures from interior design magazines are all a brilliant place to start. Inspiration can come from the most unlikely places, so make sure you always have a camera to hand when you're out and about; that stunning piece of architecture, or that gorgeous window design, could be the starting point for your own perfect space.
For inspiration, why not start by looking at some of the luxury bathroom designs in the Heritage brochure? From traditional bathroom ideas to spaces that ooze modern chic, it's a great springboard for your own ideas.
Preparing the ground
Your bathroom layout will depend on a number of things, most of them unique to your own bathroom. Be realistic about the amount of space you have and plan accordingly. Freestanding tubs can make a stunning centrepiece, but if you don't have the floorspace to use one to its full potential, consider a fitted tub to maximise space. Similarly, if you have a lot of room, you might consider a centrepiece that draws the eye.
Many bathrooms come with their own set of restrictions. Will your L-shaped bathroom change the amount of furniture you can have? Is the water pressure strong enough to support the type of shower you want? You can work with your builder or plumber to answer some of these questions, if you are using one.
This is also the time to take stock of the features that your bathroom already has, so you can make the most of your existing resources. If you have a large window that lets in a lot of natural light, you might consider keeping that space clear to give your new bathroom a bright, airy feel. If there are any original features, such as beams in the ceiling, think about working them into your design. Once you know what you're working with, your bathroom layout will begin to take shape.
Make your floor plan
Bathroom floor plans are the first step towards really seeing your bathroom come to life. You need to know the exact measurements of your bathroom, including the height of your walls and how much space needs to be left for the bathroom door to open. This can be mapped onto paper, giving you a top-level view of your space.
Depending on the complexity of your desired design and how experienced you are, you might want to work with your architect or builder to make sure everything is accurate. Once you have your measurements, you can start experimenting with the layout of your bathroom suite, as well as looking at fittings and furnishings that will fit your space. Remember that the existing positions of your pipes will play a part.
A great alternative is to use an interactive bathroom planner. The Heritage bathroom planner lets you create a customised bathroom layout before adding hundreds of items from the catalogue of Heritage products. Take your time with this stage, trying a few different layouts and making sure everything is perfect - the investment will be worth it.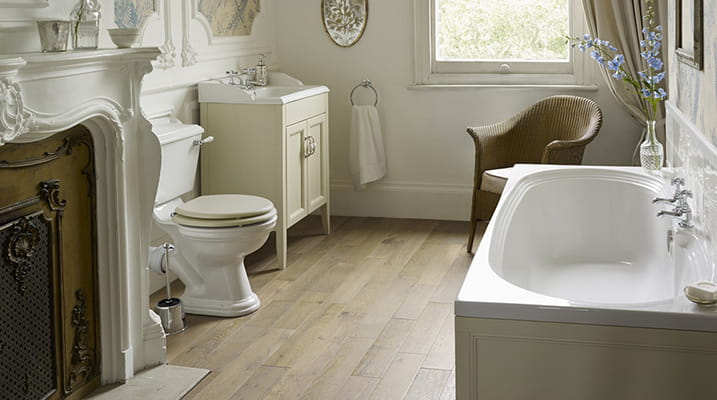 Whether you want to include bathroom furniture for a little extra storage or a freestanding bath for a touch of luxury,
our top tips will help you make the most out of your space.
Tips for planning your bathroom
• Think about heating: If you want to save space in your bathroom, consider underfloor heating as an efficient, luxurious alternative to radiators. This is a particularly good option for elegant bathrooms with a minimalist feel, as you'll keep more wall space free and keep the room feeling open. If you don't want underfloor heating but aren't keen on traditional radiators, heated towel rails are a brilliant option, particularly as part of a design for smaller spaces.
• Make the most of a small space: Consider wall-hung pans and sinks to help you make a small bathroom seem more spacious. It may also be possible to re-hinge your door so it opens outwards instead of inwards if floor space is limited.
• Consider fitted furniture: Fitted furniture is a great way to create storage space in your bathroom. Bathroom products and towels can easily be hidden to create a clutter-free space, giving you more surface room for a few well-placed decorations or plants instead. The Heritage range of furniture is suitable for semi recessed basins and back to wall pans from a number of our suites, including the stunning Wynwood, Claverton, and Blenheim collections.
Feeling inspired? Visit your nearest Heritage stockist and discover bathroom suites that will complement your unique style, from traditional elegance to modern minimalism.