Toilet Design Ideas
From powder rooms to cloakrooms, it may be surprising to find that your toilet can have a large impact on the overall look and feel of your bathroom. Often overlooked in favour of statement baths or basins, the right toilet can create a real sense of style in your space and could even become a stunning focal point.
Whether you love the subtle opulence of vintage-inspired design or enjoy the clean lines of a more contemporary look in your bathroom, your toilet should always add to (and never detract from) your aesthetic. We're here to help you make the most of your bathroom space with a range of toilet ideas designed to inspire you in creating a bathroom paradise that really makes a statement.
Toilet design ideas to complement your space
Whether you have a large en suite or are planning to update a smaller cloakroom, the first detail to think about is what style of toilet works for the space you have.
Larger rooms are perfect for experimenting with bolder looks and choosing a statement toilet can add a sense of dramatic flair to your bathroom. Look for styles that draw the eye and bring your toliet to the forefront of your design. For example, fans of the vintage-inspired will adore the exquisite Dorchester High Level Cistern from our Blenheim Collection. Evoking the exquisite opulence of Blenheim Palace, our high-level cisterns bring a drop of grandeur to any bathroom space, while the clean lines and classic styling of the Blenheim Collection keep your look contemporary. Particularly well-suited to bathrooms with high ceilings, the Dorchester high-level cisterns truly make a bold statement.
If you'd prefer all the style without the height of a high-level cistern, the Blenheim Collection offers plenty of toilet design ideas for your space. The low-level cistern is a great option if you love the traditional look but don't have the ceiling space for a taller toilet. Alternatively, the Blenheim standard height toilet offers the palatial style of the English Baroque look with space-saving design.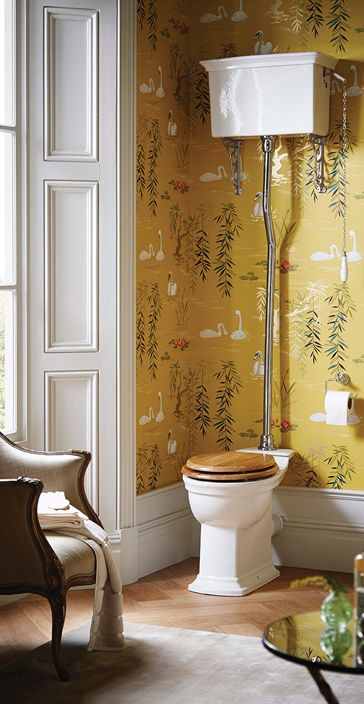 Toliet design ideas for smaller spaces
However, smaller spaces need not compromise on design. The key to creating cohesive and stylish look in small rooms (for example, a downstairs cloakroom or guest bathroom) is marrying simplicity with eye-catching design.
For smaller bathrooms, look for toilet design ideas that sit well in the space you have and that complement your chosen suite. For example, our Claverton Collection makes an inspired choice for those who love the subtle yet timelessly elegant proportions of Georgian design. Like Georgian architecture, the Claverton Close Coupled toilet is defined by exquisite curves contrasted with sharp lines, giving your toilet a luxuriously classic look that has been updated to suit properties of any period. The Claverton Close Coupled toilet works particularly well with fitted furniture, such as our Caversham range, making it a great choice for creating extra storage too (an ideal space-saver for small bathrooms).
If you're planning on updating an even smaller space, such as a downstairs cloakroom, there are plenty of WC design ideas that can help you create a beautifully styled room. For more compact spaces, a back to wall design may work well for you. These toilets cleverly maximise the space you have available by concealing the cistern behind either fitted furniture or a wall. They can look truly stunning too. Our Claverton Back to Wall toilet in particular brings relaxed and feminine elegance to your cloakroom and looks especially exquisite when matched with statement tiles and a soft-hued colour palette. Your luxury cloakroom will never look better.
Choosing the right accessories
Here at Heritage, we believe in creating bathrooms that are Distinctively Individual. Whatever the size of your space, you may wish to choose a toilet design idea that lets you put your unique style stamp on your toilet. Our Wynwood Collection allows you to do just that. Characterised by the quirky architectural beauty of Miami's art and fashion district, this collection is all about art deco-inspired lines, classic styling and a hint of theatrical flair. Well-suited to properties of any period, Wynwood works for bathrooms of all shapes and styles.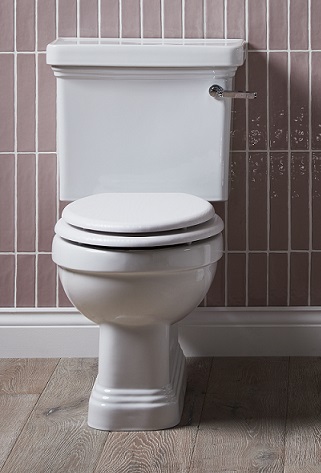 If choosing a toilet from this collection, you'll love the linear detailing and subtle curves of the Wynwood toilets. Timelessly stylish, these toilets add an inimitable sense of drama to your bathroom. These elegant toilets also make an inspired choice when designing a space that is truly unique. Whatever your style preference, Wynwood toilets, available in both comfort height and standard height, give you the option to personalise the finishing touches. From choosing the perfect cistern handle to making a statement with a beautifully designed luxury toilet seat, put your own stamp on your space with stunning detailing.
All our toilets give you the option to add something a little extra to your toilet design. Our range of luxury toilet seats make the perfect choice for those looking for a stunning seat to complement their overall bathroom aesthetic.
For vintage-inspired looks, our Vintage Gold Standard Hinge Seats look exquisite in classically designed spaces. These seats are available in a range of colours and all feature a beautifully designed hinge in vintage gold. For those wishing to add a hint of on-trend flair to their bathrooms, our Rose Gold Standard Hinge seats look particularly exquisite in contemporary spaces. For an even more luxurious feel, choose our Soft Close Hinge Seats, which are available in a wide range of on-trend colours and have the added benefit of a silent close.
Toilet design ideas from Heritage
Whatever space you have available, we're here to help you choose the perfect toilet for your bathroom. If you have your own toilet design ideas and would love to talk to us about your requirements, find your nearest Heritage showroom where we would be more than happy to take you through our different toilet options. Need a little inspiration? Download our brochure to find out more about the range of toilets we have available.