Rose gold bathroom accents
Could the romantic, blush-tinted tones of rose gold take your bathroom design to the next level? With stunning rose gold bathroom taps and showers like our rose gold Hemsby collection, we prove that this gorgeous shade is suitable for more than jewellery and smartphones. Rose gold is another wonderful colour to create with as you play with the interior design of your space.
This beautiful sunrise-tinged colour that has remained popular since it emerged – and its staying power is testament to its beauty. With the rosy tone now present in many bathroom fittings, fixtures and accessories, it's a wonderful way to add a depth and warmth of colour to your bathroom – not to mention a focal point! Read on for a few ideas for making the rose gold bathroom of your dreams.
Rose gold bathroom tiling
Rose gold bathroom tiles are a beautiful way to adorn your walls and floors with a chic blush metallic shine. To keep it from being overpowering, we recommend trying small, brushed-steel hexagonal tiles in various shades of grey, black and rose gold. This pattern should create a precise and mesmerising look that will be stylish and attention-grabbing around the walls or above a bathroom sink with matching rose gold taps.
Moroccan-style rose gold bathroom tiles with North African-inspired patterns and golden accents also make a gorgeous, exotic style choice. They are an easy way to start incorporating rose gold bathroom accents into your bathroom's overall look.
For those that are feeling bolder and more adventurous, or have a taste for sparkle, rose gold bathroom grout is a fun way to add a pop of metallic rose gold to the space between your tiles. This can be found in either a muted or sparkly finish, and makes a beautiful contrast with coloured tiles. If you're dealing with vintage tiles with some cracks already present, why not use Japanese kintsugi (the practice of fixing broken porcelain with gold lacquer) as inspiration? Consider filling any cracks or holes in tiles with rose gold grout, creating a fresh, chic modern look with a nod to the antique.
Distinctive rose gold bathroom accessories
Rose gold shines brightest when used as accents around the bathroom, and this is easy to do with rose gold bathroom accessories and taps. Employ rose gold as delicate notes by adding in bathroom fixtures and accessories that will dazzle and catch the eye. If you want simple touches of colour you can try smaller accessories such as towel rings and soap dishes. For a bolder statement, choose more lavish fixtures like basins and washstands.
A rose gold bathroom will not only look decadent, but will add an element of warmth to your bathroom that works for all seasons. Rose gold bathroom accessories will appear sun-kissed during the warmer months and will brighten up your space during the winter.
For a subtle, elegant way to use rose gold taps and fixtures, why not make a feature shower area and set off your space with our rose gold Dawlish Exposed shower? It will add a pop of colour and sophistication to any bathroom and provide a talking point for guests. Or refresh a plain, well-loved tub with some rose gold bath taps to revive your space with the warm blush-tinted tones, and make your space a soothing retreat from the stresses of everyday life.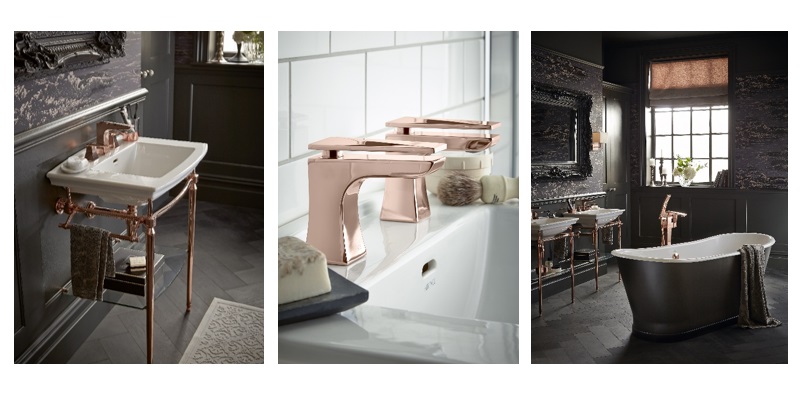 Beautiful colour combinations for your rose gold bathroom
Rose gold is such an enduringly popular tone because it is a rich, versatile colour that can add a high-class, antique note to your bathroom design. It's also simple to style and works with so many colour palettes. Rose gold works beautifully with shades of mint green and warm light blue.
Pair it with mint coloured tiles, or if you're feeling adventurous, paint one of our cast iron baths in a relaxing mint shade. Or splash your walls in hues of periwinkle and powder blue – this will appear like golden sunlight reflecting off tropical waters, instantly transporting you somewhere calming.
Rose gold also works with crisp whites like white metro tiles, a popular type of bathroom tile that offers a clean and harmonious appearance to any space. Or for something darker, look for deep greys and dark blues to set off the bright rose gold tones. With classic, clean tiles your rose gold fixtures will become a focal point and draw the eye to these elegant features.
If you're seeking a decadent and classy feel for your bathroom, combine rose gold with opulent marble to ooze grandeur into your space and give it the feel and aesthetic of a stately home or 5-star hotel.
For more bathroom ideas, inspiration and styling tips take a look at our blog to help find stylish bathroom décor that suits your tastes. Or download a copy of our brochure to take a look at our full range of products.