Romantic bathroom designs
After a long day, come home to a gorgeous romantic-style bathroom where you can truly unwind. Think romantic hues, elegant blues, and bold patterns that calm and delight.
This kind of romantic bathroom décor creates a light, refined, yet modern atmosphere. Read on and be inspired by the glorious trend for romantic bathroom design, which perfectly incorporates elements of elegant tranquillity. Beautiful colours, textures, and luxurious metallics abound! But how can you achieve the look?
Dreamy, elegant blues
Explore the full versatility of blue shades, and use deeper tones that act as a 'neutral' base to calm down other brighter hues. Powder blue and periwinkle are also an attractive colour choice for walls, as well as for baths like our Madeira freestanding cast iron double ended bath, which would be an ideal focal point for a romantic bathroom design.
Pair these colourways with rich woods and gold accents for a truly opulent look – a combination of colour and texture which is sure to spark any number of romantic bathroom ideas. High gloss versions of sophisticated deep blue shades, such as Heritage's new limited edition Glastonbury Midnight Blue Taps, are a subtle but stylish addition to give the glamorous trend a more modern twist.
Think pinks
Pretty in pink: rose and blush pinks are on trend this year, with so much delicate warmth to offer. Paint the walls or simply bring the shade into your bathroom with accessories. The colour palette for this look centres around a pretty, dusky pink base, paired with neutral shades like cream, chalky white, or dove grey.
When it comes to tiles, matte finishes and natural hues like stone, pale wood or marble compliment a duskier pink to perfection. Better yet, turn metro tiles portrait and run them up the walls, or go for lozenge-shaped tiles for an authentic deco look.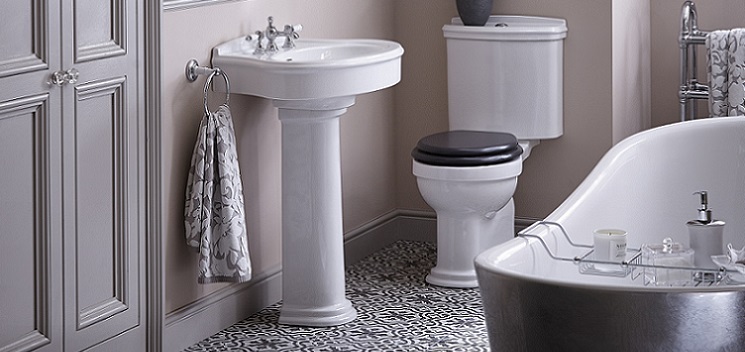 The Claverton suite with the Holywell bath in Steel effect.
Make a statement with wallpaper
If you have adequate ventilation, then don't shy away from using a stylish wallpaper in the bathroom – this way pink can be introduced by pops of colour in a floral or geometric design. Alternatively, wallpapering using tones and effects like ombré and washes of colour can create a calm, tranquilly romantic look that is just as on-trend. Wallpaper offers a host of patterns to play with, which can give rise to so many more romantic bathroom ideas and possibilities for design. Why not take the opportunity to really have some fun with patterns and employ your creativity as you design your bathroom?
A delicate touch of rose gold
As rose gold continues to dominate the fashion, jewellery and interiors industries this year, adding this colourway into your space will add a real style statement. Rose gold is an ideal way to add just the right touch of modern and unique to romantic bathroom designs, and it also combines beautifully with the 'romantic' colour palette, adding a stylish edge and a glimmer of warmth. Heritage's new collection of Abingdon Washstands has a rose gold finish to allow homeowners to embrace this look, with smooth, stylish lines and warm-toned hardware.
If you don't feel like taking the plunge into gold tones with your bathroom fittings, gold bathroom accessories are another way to start to incorporate gold tones into your bathroom. Accessories like our vintage gold Clifton double towel rail provide a functional yet stylish way to add the perfect finishing touch of golden luxury to your bathroom.
Budding romance
The trend for romantic bathroom designs is full of possibilities. With just the right amount of soft classic style, edgy modernity, and a gorgeous colour palette, giving your bathroom a touch of romance might just turn it into your oasis. And, at Heritage, you're sure to find stylish, quality pieces that give it the perfect romantic touch.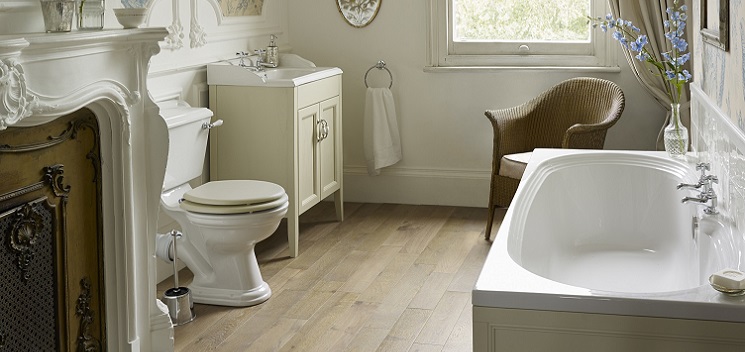 The fabulous Dorchester suite styled in a gorgeous country chic look.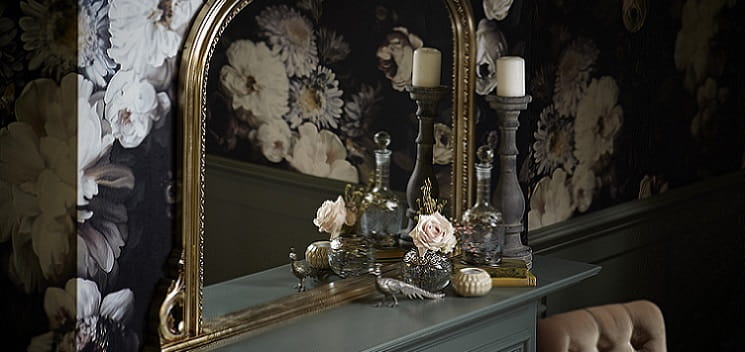 The Archway mirror with curated trinkets for a romantic ambiance.