Elegant bathroom vanities
At Heritage Bathrooms, we believe that your space should be a haven of relaxation and beauty. And exquisite design plays a significant role in creating such a tranquil space. With this in mind, all our bathroom products have been carefully crafted to help you achieve the very best in bathroom design.
However, we also believe that beautiful design need not compromise on practicality. In fact, creating that sense of luxury and sophistication depends on clever, yet effortlessly elegant, pieces for storage and saving space. Indeed, whatever your style preference, your bathroom furniture should marry practical design with your personal interiors style.
That's why we offer a range of luxury bathroom vanities designed for elegant spaces. We have the perfect piece, no matter what your room requirements or personal style choices. Whether you prefer to keep your surfaces clear or simply need extra space for storing toiletries, our bathroom vanity units are both timeless and practical.
If you're looking for design concepts for your bathroom storage, we've put together some bathroom vanity ideas that are sure to inspire below.
Choosing a luxury vanity unit style
Combining classic elegance with contemporary flair is at the heart of everything we do here at Heritage. Whether you are a fan of the vintage-inspired or prefer a more contemporary look, you'll adore the vanity units and luxury bathroom storage options we have to offer.
We believe that every bathroom space should be unique. That's why we offer traditional vanity units and stylish furniture options to suit a range of style choices.
A great starting point when choosing storage options for your bathroom is deciding on your colour palette. Whether you love relaxing, neutral tones or bold colour choices, the finishes in our vanity range are designed to suit any palette or interior design style. These include:
• Dove Grey – This gorgeous neutral tone is the perfect accompaniment to bold wall colours or statement-making bathroom tile choices. Timelessly stylish and effortlessly elegant, the luxury bathroom storage options in this collection are truly stunning.
• Graphite – Bold, striking and endlessly glamorous, our Graphite Collection is a wonderful choice for those wishing to create a real sense of drama through their bathroom furniture. Whether freestanding or wall-mounted, vanities in this colour choice are undeniably stylish.
• Oyster – For fans of the vintage look in their bathroom furniture, vanities in our classic Oyster Collection are simply the perfect choice. With echoes of traditional style coupled with a fresh, modern design, you're sure to find that these storage pieces make an exquisite classic style statement.
• White Ash – Sophisticated and elegant, the luxury vanity units in our White Wash Collection are a narrative in graceful simplicity. Whichever design you choose, you'll be rewarded with a storage unit that offers a truly timeless finish.
Freestanding vanity units
Once you've chosen your colour palette, it is useful to consider the space options you have when selecting your vanity. This will impact on the overall style and structure of your bathroom storage.
For larger spaces, our Caversham freestanding vanity units make a beautiful style statement and are available in a range of design choices. If you love bold and striking design, the angular and architectural-inspired lines of the Granley vanity unit might just be right for you. Alternatively, the soft curves and sweeping elegance of the Blenheim vanity could be the perfect choice for those wishing to create a grand and luxurious bathroom space.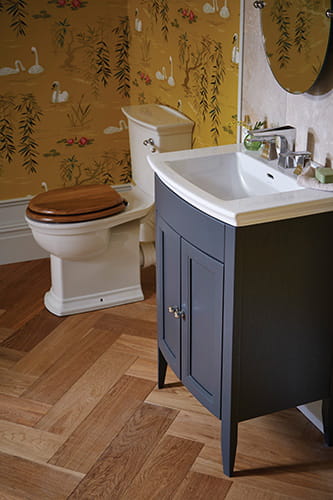 Wall-mounted vanity units
For bathrooms that may be more limited in space or if you would prefer to keep your floorspace clear, a wall-mounted vanity unit could be the ideal choice for you. These vanities are hung directly from the wall, making them an excellent space-saving storage choice.
However, their functionality certainly doesn't compromise on style. Like with our freestanding pieces, there are plenty of luxury vanity units to choose from. Everyone one of our wall-mounted storage units has been elegantly designed to complement your bathroom suite, whatever your personal style preference. With clean lines and a contemporary-yet-traditional feel, these wall-hung units make a wonderful design statement for any space. They are also available in a single or double drawer option, giving you plenty of choice for clever bathroom storage.
Need more inspiration? View all of our vanity units.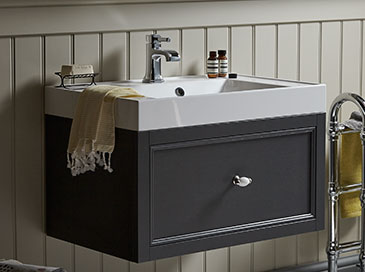 Personalising your bathroom vanity unit
Once you've chosen your colour palette and selected the design to perfectly complement your space, the next step in finalising your luxury bathroom storage unit is choosing the finishing touches. The right handles can transform your vanity to be even more of a focal point of your bathroom and can be a wonderful way to put your personal style stamp on your bathroom furniture.
To add a hint of contemporary flair to your bathroom storage, look for a handle in an on-trend finish. Our Brushed Brass Round Knob is a stylish way to bring in fashionable metallics to your space and would look particularly striking against a bold Graphite finish.
If you prefer a more traditional vanity cabinet, our range of classic handles and door knobs are the perfect complement for a vintage-inspired space. For example, our Classic Single Fixing Handle or the opulent Double Fixing version would put a sophisticated yet period-inspired finish on your vanity.
Need more inspiration? View all of our exquisitely designed bathroom vanity handle options.
Choosing your bathroom storage with Heritage
At Heritage Bathrooms, everything we create is crafted to the highest standard, including our selection of beautiful bathroom furniture. If you're looking for more design inspiration for your luxury bathroom vanity unit, we have plenty of design tips and product choices in our brochure. Request your brochure today.
If you're ready to choose your vanity or would like to view our range in person, find your nearest showroom to visit us in store. Our experts will be on hand to help you select the perfect bathroom storage to suit your space and your style.